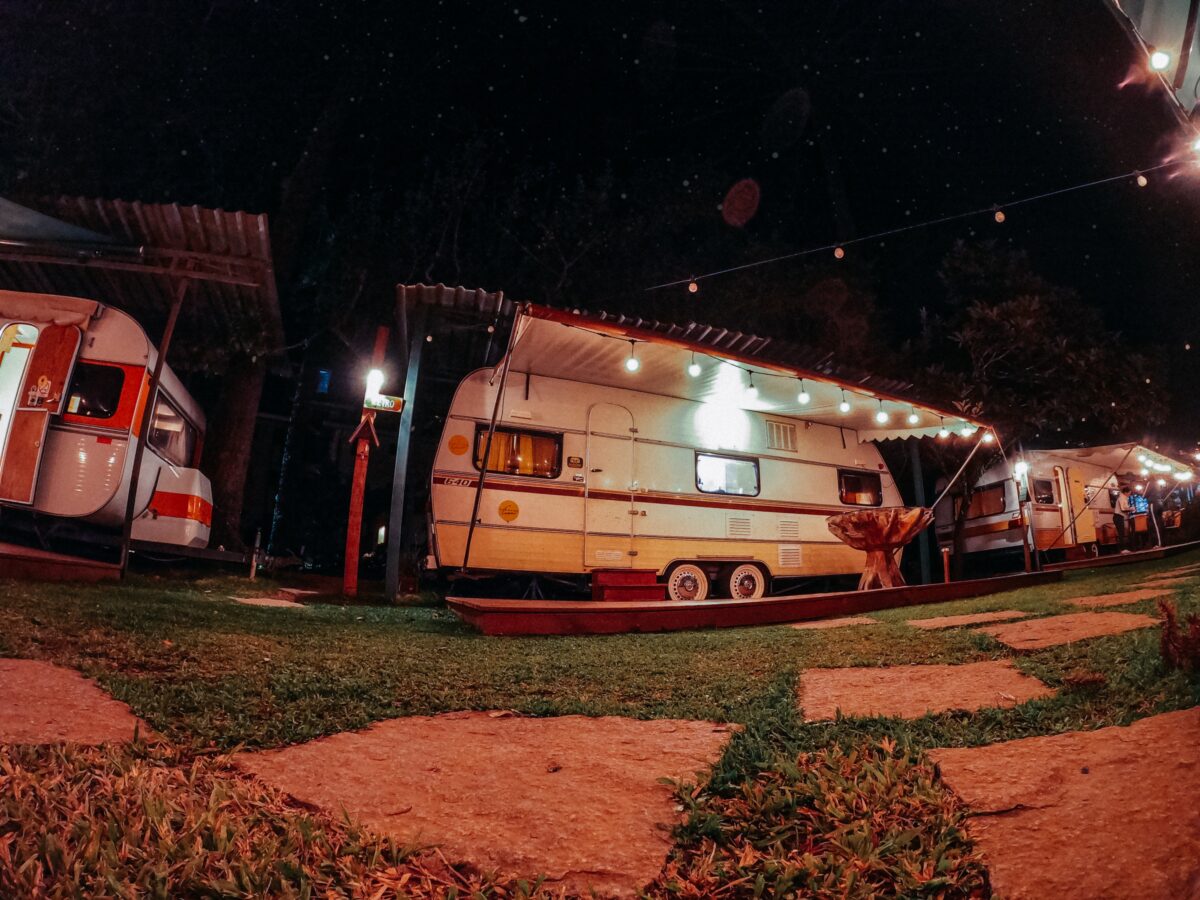 RV Rental Kelowna: A Dog-Friendly Destination
Kelowna, British Columbia is quickly becoming one of the most sought-after destinations for RV rentals and dog owners alike. With an abundance of pet-friendly amenities and activities, Kelowna has something to offer every member of your family.
From dog-friendly RV parks to outdoor activities that both you and your pup can enjoy, there's no better place to take a vacation with your furry friend than Kelowna. Whether you're looking for a place to relax or explore the city, this charming destination offers plenty of options for everyone in your party – including the four-legged members!
Dog-Friendly RV Parks in Kelowna
Kelowna offers a variety of options for RV camping with pet-friendly amenities, providing travelers the opportunity to explore the local area and its attractions with their beloved canine companions.
Many Kelowna RV parks feature off-leash dog parks, so that visitors can allow their dogs to roam free in a safe environment. Dog owners should take advantage of these parks as they provide an excellent way for dogs to socialize, exercise, and explore. Additionally, many campsites offer pet sitting services so that campers can enjoy some of the activities without worrying about leaving their pets behind at the campsite.
On top of exploring options within Kelowna's RV parks, there are also numerous trails and beaches nearby which offer further opportunities for exploration with furry friends.
Some popular choices include Mission Creek Regional Park and Myra Canyon Adventure Park; both locations have designated dog-friendly areas where pooches can socialize with other four-legged creatures while their owners take in the sights around them. Similarly, Rose Valley Regional Park is another great spot to hike or bike alongside your pup – though it's important to note that this park does not permit off-leash activity on its trails.
Before embarking on any outdoor adventures with your pup however, be sure to check all applicable rules and regulations regarding pet ownership in the region – as well as ensuring that your pooch has appropriate identification tags on them at all times during travels.
With adequate preparation and adherence to safety protocols you will be ready to hit the road and enjoy everything Kelowna has to offer!
Dog-Friendly Restaurants and Breweries
Kelowna is a vibrant city, and its many eateries and breweries provide a great place for dogs to join their owners for a meal or to relax with friends while sipping on some local brews.
There are numerous dog-friendly cafes in the area that offer treats and snacks for your canine companion. Many of these locations also offer pet-sitting options, so you can enjoy your meal without worrying about what your pup might get up to in the meantime.
For those looking for something more relaxed, craft breweries are popping up all over town – offering delicious ales, lagers, ciders and stouts as well as an atmosphere perfect for bringing along your furry friend.
Most of these establishments also feature outdoor seating areas or patios where you can take advantage of the beautiful Okanagan weather while enjoying a cold one with your pooch by your side.
Whether you're looking for a casual cafe experience or want to kick back at one of Kelowna's many breweries, there are plenty of places around town where both you and your pup will feel welcome.
Outdoors Activities for You and Your Dog
Kelowna, British Columbia offers an array of outdoor activities for you and your four-legged friend to enjoy together.
Hiking trails with varying levels of difficulty provide the opportunity to explore the great outdoors in a safe and natural environment.
In addition, dog-friendly beaches, parks and lakes offer a chance to take in the local scenery while soaking up some sun.
Whether it's a leisurely stroll or a more adventurous hike, Kelowna has something for everyone!
Hiking Trails
Surrounded by stunning mountains and beautiful forests, the hiking trails of Kelowna provide an opportunity to explore nature and create lasting memories with your beloved pet. Whether you are a seasoned hiker or just starting out, there is something for everyone.
When planning your outdoor adventure, make sure to have all the necessary dog friendly gear such as leashes, harnesses, water bowls, poop bags and treats. Additionally, if you would like to extend your hike beyond a day trip, there are plenty of pet sitting options in the area that can look after your pup while you're away.
Here is a list of some of the best places to explore with your furry friend:
– Okanagan Mountain Provincial Park: With over 34 km (21 mi) of trails ranging from easy strolls to more challenging hikes up steep inclines.
– Knox Mountain Park: A mix of both paved roads and unpaved trails that lead up to incredible views at higher points on the mountain.
– Myra-Bellevue Provincial Park: Boasting beautiful alpine meadows surrounded by lush forest along with plenty of wildlife sightings throughout its many loops and paths.
– Rose Valley Regional Park: A great spot for beginning hikers featuring well-maintained paths through meadows full of wildflowers and babbling brooks.
Dog-Friendly Beaches
With over 14 miles of beaches along the stunning lakeside, Kelowna is an ideal destination for taking your pup to enjoy a fun-filled day in the sun. Dog owners should always be aware of local dog-friendly rules and pet friendly policies before they visit any beach. To ensure a pleasant experience for everyone, it is important that all dogs remain under control at all times and that owners clean up after their pets. The following table outlines the most popular dog-friendly beaches in Kelowna:
| Beach | Pet Policy | Amenities |
|—— | ————————————————– | —————–|
| Bear Creek Provincial Park | Must be on leash | Picnic tables |
| City Park Beach | Dogs allowed off leash | Playground |
| Gyro Beach | Dogs allowed off leash | Swimming area |
| Knox Mountain Park | Must be on leash | Hiking trails |
Parks and Lakes
Kelowna boasts a variety of parks and lakes, ranging from large establishments offering a wealth of recreational activities to smaller, more intimate settings ideal for peaceful reflection.
Exploring the options available in Kelowna can provide an enjoyable experience for both locals and visitors alike. From dog-friendly beaches to camping areas and picnic spots, there is something for everyone.
When visiting Kelowna's parks and lakes with a pet, it is important to remember basic camping etiquette. This includes disposing of pet waste properly, being aware of any nearby wildlife, keeping pets on leashes when appropriate, and cleaning up after yourself.
Additionally, some locations may have specific rules regarding pets or require permits; make sure to check local regulations before planning your trip.
With the proper preparation and respect for the environment, Kelowna can be enjoyed by all pet owners looking for outdoor adventure!
Shopping and Entertainment
Kelowna is a great destination for RV rental Kelowna and also offers a variety of shopping and entertainment options. Visitors can explore the downtown area to find local markets, pet stores, boutiques, and other unique outlets.
The city has something for everyone, whether they prefer strolling through shops or taking in vibrant street performances.
For those seeking an evening out on the town, Kelowna offers plenty of bars and restaurants to choose from and rent an RV. Whether looking for live music venues or quiet cozy dining spots, visitors will be sure to find a spot that suits their taste.
There are also several theaters in the city offering plays, musicals, and other productions throughout the year.
Kelowna serves as a hub of culture with its numerous art galleries displaying paintings from local artists as well as events such as festivals and concerts held throughout the year.
The city also hosts many outdoor activities such as hiking trails at Myra Canyon Park and golf courses like Harvest Golf Club where visitors can take in stunning views while playing a round of golf with friends or family members.
Pet-Friendly Amenities and Services
For those traveling with their furry family members, Kelowna offers plenty of pet-friendly amenities and services to make your stay even more enjoyable. From dog sitting services to pet friendly hotels, there is something for everyone.
* Pet owners can take advantage of the numerous dog parks scattered throughout the city, providing a safe and fun place to let their pup roam free.
* Leash laws are strictly enforced in most public areas, allowing visitors to peacefully coexist with other park patrons.
* Those looking for overnight accommodations can choose from a range of pet friendly hotels that offer comfortable beds and amenities tailored specifically for four-legged guests.
* Grooming services are also available throughout the city, ensuring pets are spiffy and clean during their stay in Kelowna.
Whether you're planning an extended vacation or a short weekend getaway with your canine companion, Kelowna has everything you need to make it an unforgettable experience. With so many pet-friendly options, it's no wonder why this charming British Columbia destination is quickly becoming one of Canada's most popular RV rental destinations!
Conclusion
Kelowna is an ideal destination for those seeking to explore the great outdoors with their canine companion. With numerous dog-friendly RV parks, restaurants and breweries, outdoor activities, shopping and entertainment, pet-friendly amenities and services – there is something for everyone.
In addition to providing fun activities for you and your pup, Kelowna also offers a variety of options that allow you to enjoy all the city has to offer while keeping your furry friend safe and comfortable.
Whether you are looking for a relaxing weekend away or an adventurous getaway with your furry family member – Kelowna has everything you need.