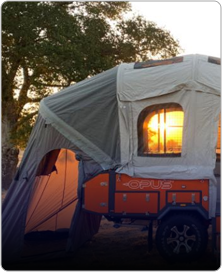 Camping Gear To Get There
When it comes to camping, nothing beats the summer season and comfort of WE travel. With a home on wheels, you'll need a lot less gear to set up a comfortable camp.
Whether you're setting out on wild hiking adventures or aiming for a vacation full of lakeside BBQ's and plenty of naps, camping in the great outdoors does require a few must-have items so here's our list of gear to get you there this summer:
#Sleeping Bag
Having a soft place to fall after a day in the great outdoors can absolutely make or break your trip. Relying on any camping bedding in your RV isn't enough if you're venturing outside the RV campground. For different types of RV visit RvTravelCentral and check RV listing
Temperatures can drop to well below freezing even in hot sunny climates you may be exploring by day. Having a portable, lightweight sleeping bag is perfect to keep on hand after all your adventuring to doze off comfortably.
Bonus purposes: use as a pillow or place to sit when rolled up. And even wear as a raincoat in unexpected downpours (most are made with water repellant fabric but always good to check).
#Backpack
A place for everything and everything in its place, a good backpack is an absolute must for any camping or hiking activity.
Store all your basics in one easy, portable, location giving you a chance to bring what you need comfortably and explore beyond the campground.
When traveling in an RV you might overlook bringing along smaller storage but a good backpack makes transporting important items an easy trek.
#GPS
Nobody wants to get lost in woods while camping, but often getting to the campsite is half the battle.
Some of the best campgrounds are off the beaten path and a dedicated GPS system for your RV can save a lot of navigational headaches.
There are some great gadgets available designed specifically for RV travel with important insights on bridge heights and climatic conditions – ensuring smooth sailing ahead.
#Head-Lamp
Ignore any initial guffaws from kids on this one. They'll soon be fighting over whose turn it is to wear it.
Head-lamps have endless uses on a camping trip freeing up your hands to pitch a tent, wrangle pets on leashes, carry little ones, prepare a meal and so on.
It's one of those things you'll find yourself reaching for time and time again from foraging in the tent to exploring a dim trail.
# Solar-Powered Portable Charger
All our gadgets typically run on power sources and batteries that most campsites will have the juice to keep running.
But in the event of a lost power source or dud batteries, it's a great back up plan to pack a solar-powered portable charger.
While you may be prioritizing less screen time for the whole family while camping, no one wants to be left stranded.
An all-purpose solar charger could save the day, and some sanity and is always a great and portable plan b.
#First Aid Kit
This one seems like a no-brainer but there are a couple important things that often get overlooked when assembling your kit, and it isn't generally best to depend on the campground or pit-stop stores for these things.
Your First Aid kit is vital whenever on the road, veering off the beaten path and away from regular dependable sources of medical attention.
Your camping kit should always include:
⎫ First aid tape
⎫ A pair of scissors
⎫ Bandages
⎫ Cotton swabs
⎫ Aspirin
⎫ Liquid pain reliever spray
⎫ Thermometer
⎫ Cotton swabs
⎫ Insect repellants
#Water Filter
A considerable number of campgrounds are situated close to climbing trails, nature holds, and hiking zones. On the off chance that you wander far from your RV, it's always good to have a dependable back up for clean drinking water.
Fortunately, there are many compact filter options that can fit in your pocket. Filter straws are available that enable you to drink water from any nearby water source (within reason – see individual product details and restrictions). And it's always a good idea to pack a supply of water cleaning tablets for a quick fix.
To Endless Options & Adventures
The options out there for fancy camping supplies are limitless these days, but with a few tried and true items like the ones above you're more than ready to set out on your next adventure. And WE wish you happy trails!