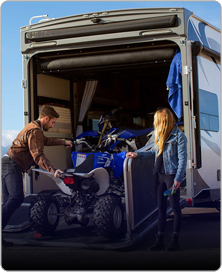 4 Great Budget Destinations in Alberta for Travel Trailers
The best part about owning a travel trailer is having the freedom to go where you want, when you want. For the traveller on a budget, there aren't many better ways to explore and spend time with your family. But the costs of having fun while you're travelling can add up quickly, so we've put together 4 budget road trip ideas for Alberta.
Drumheller
Drumheller is a great mix of adventure, history and fun! You won't find more exotic landscapes for hundreds of kilometers, and there are countless opportunities for excellent hiking. Who knows, you may even stumble upon an undiscovered dinosaur fossil! Here are a few different stops in Drumheller that are worth the trip.
Hiking the Badlands
The hoodoos in Drumheller are recognized around the world as icons of the Alberta badlands. If you've never taken the opportunity to venture off the beaten track and explore these amazing natural formations, now would be the time.
Here's a list of great Badlands hikes.
Atlas Coal Mine
Many have never heard of this former coal mine, which is actually considered to be Canada's most complete historic coal mine. This National Historic Site offers a variety of tours which allow you to visit the mine and the last wooden tipple in the country. Tours operate from May to October, and you can find all the details on their website.
Royal Tyrrell Museum
If you're visiting Drumheller, this last stop is a must. Established in 1985, the Royal Tyrrell Museum is the only museum in Canada devoted entirely to palaeontology is home to one of the largest displays of dinosaur bones in the world. With constantly changing exhibits, this museum is perfect for kids of all ages! Prices go as high as $18 for an adult for a day, but you can get family passes for $46 (and that includes two parents and up to SIX kids!). More on their website.
Jasper
Jasper is often combined with Banff in any travel itinerary in the Rockies, and with good reason. This absolutely charming town is a must see in itself, but Jasper is also a great jumping off point to some breathtaking sights in the mountains.
Jasper SkyTram
Climbing a mountain has never been easier. The Jasper SkyTram takes you up to over 2,200 meters on Whistler's Mountain, and is Canada's longest and highest aerial tramway. The views are out of this world, and the tramway takes you to hiking trails, an interpretive exhibit and dining facilities.
More on the official website.
Columbia Icefield
Geology buffs and mountain enthusiasts will love a trip to the Icefield. Home to the massive Athabasca Glacier, the Icefield is a great place to explore one of the planet's most accessible glaciers (it's even visible right from the road!). It's also one of only two places on earth that forms a triple continental divide, truly a spectacular place. For some free fun, a variety of great treks are available.
Kananaskis
With an almost endless amount of outdoor activities, Kananaskis is a full-on smorgasbord of fun. Whether it's horseback riding, whitewater rafting or hiking and mountain biking, it's easy to find reasons to visit all summer.
Kananaskis is worth a blog post all on its own, but you can dive into the various activities on their website, but we wanted to share one of our favourite free Kananaskis activities.
Did you know that four campgrounds in Kananaskis offer free 50-minute evening interpretive shows? Park Rangers act and sing and dance in high-energy educational, musical theatre shows that are perfect for the whole family. With titles like "In Search of Bearadise" and "UKC: Ultimate Kananaskis Carnivore", your family will have fun learning about the animals and wildlife in Kananaskis Country.
Check them out during the summer months from Wednesday-Sunday nights at 8pm at the amphitheatres of the following campgrounds (you don't need to be a guest to enjoy the shows):
Bow Valley Provincial Park
Peter Lougheed Provincial Park
McLean Creek Provincial Recreation Area
Mt. Kidd RV Park
Giant Roadside Attractions
Did you know Alberta is home to over 50 different giant roadside attractions? Whether it's the 25m tall T-Rex in Drumheller or the 13m tall Kielbassa Sausage in Mundare, it's a great excuse to explore some lesser known sites Alberta has to offer, and save some money at the same time.
Got any other budget trips you love in Alberta? Share them in the comments!
Thanks for reading, now visit RV Travel Central and book an RV for rent get out there and enjoy!