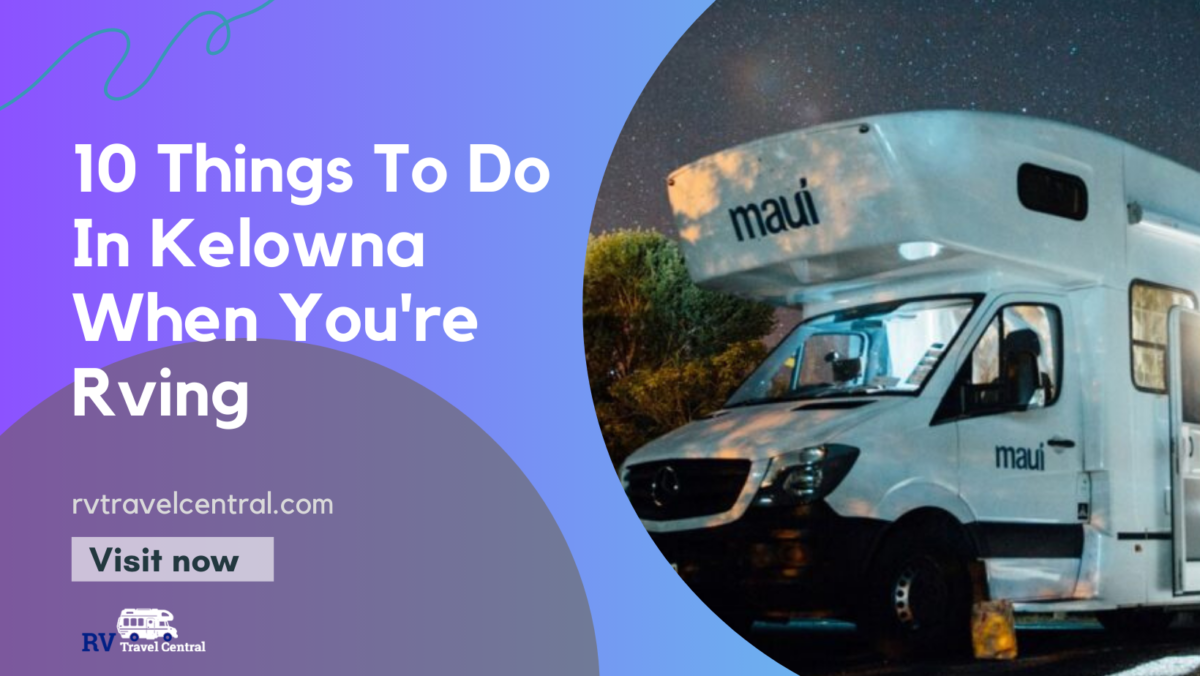 10 Things To Do In Kelowna When You're Rving
Kelowna, located in the Okanagan Valley of British Columbia, is a beautiful city filled with exciting adventures for those looking to explore.
There are many activities available for those traveling through the area in an RV.
From exploring local wineries and taking hikes at Knox Mountain Park to discovering the local food scene and visiting Myra Canyon Trestles, Kelowna has plenty of experiences guaranteed to make lasting memories.
Here are ten of the best things to do when RVing around Kelowna.
Explore the Local Wineries
The many wineries in the Kelowna area offer visitors a unique opportunity to explore the local wine culture and sample some of the region's finest vintages.
Experienced sommeliers provide guided tastings, allowing visitors to learn more about regional wines and discover their favorite flavors.
Wine enthusiasts can also take part in engaging vineyard tours that showcase how different winemaking techniques influence taste and aroma.
Guests can also enjoy complimentary snacks while taking in breathtaking views of Okanagan Lake from select vineyards.
At each destination, guests are invited to experience the full range of tasting options available, including reds, whites, and rosés sourced from renowned grape varieties specific to the Okanagan Valley.
Visitors with a discerning palate will be delighted by special flights featuring award-winning regional blends paired with artisanal cheeses or chocolates which emphasize complexity and depth of flavor.
Many vineyards offer exclusive memberships that include access to exclusive events as well as discounts on bottles or entire cases for those who'd like to take home a lasting souvenir of their stay.
Kelowna's thriving wine culture offers plenty of opportunities for seasoned oenophiles as well as newcomers looking for an educational experience in one of Canada's premier viticulture regions.
Whether you're sampling your way through a flight or joining a guided tour through rows of lush vines, there is no shortage of delightful experiences awaiting you at Kelowna's wineries.
Visit the Myra Canyon Trestles
Located within the Okanagan Valley, Myra Canyon Trestles offers breathtaking views of the surrounding landscape. Situated between Kelowna and Penticton, it is one of the most popular tourist attractions in the area. The trestles are part of an old abandoned railway line that was built in 1892 and has since become a 12km long hiking trail with spectacular scenery.
| Location | Views |
|:———:|:——————:|
| Myra Canyon | Okanagan Valley |
| 12 km | Mountains & Lakes |
| Hike | Historical Ruins |
| Bike Paths | Remarkable Trees |
The path meanders through breathtaking mountain passes, high above two pristine lakes, with many opportunities to marvel at wildlife such as deer and bighorn sheep roaming around the area. Whether you decide to hike or bike these trestles, you can expect stunning panoramas from every angle. From deep forests to lush grasslands and wildflower meadows – there's something here for everyone! You will also be able to see some of the original train tracks that still remain from when this route was operational.
Myra Canyon Trestles is not only a place of natural beauty but one deeply rooted in history too; 22 tunnels were painstakingly carved into solid rock by hand nearly 150 years ago! This remarkable engineering feat makes it an absolute must-see destination for anyone visiting Kelowna who loves outdoor activities like biking or hiking. It's also a great way to explore some of British Columbia's unique geological features while taking in amazing landscapes along the way.
Enjoy the Beach at Okanagan Lake
Okanagan Lake provides an idyllic setting for beachgoers looking to soak up the sun. Whether you are looking to get a tan, take in some water sports or simply relax with a good book, Okanagan Lake has something for everyone.
The lake provides plenty of activities to keep beach-goers entertained:
* Paddleboarding and kayaking offer an opportunity to explore the lake's crystal clear waters.
* Sunbathing on the sandy shoreline gives visitors the chance to work on their tan.
* Beach volleyball is a popular way for groups of friends and family members to stay active while still enjoying the outdoors.
* Kids can enjoy swimming in shallow areas as well as playing in the sand along the shoreline.
The area around Okanagan Lake also offers plenty of amenities that make it easy for visitors to spend extended amounts of time there. There are multiple parks located along its shores which provide picnic tables, BBQs, restrooms and playgrounds for children. Additionally, there are ample parking spaces available throughout most of its length making it extremely accessible even during peak summer months when crowds may be heavier than usual.
From its stunning views and wide range of activities, Okanagan Lake is an ideal destination for RVers looking for some relaxation or adventure while visiting Kelowna. It's convenient location makes it easy to access from anywhere within the city limits and its variety of amenities ensure that visitors will have a comfortable visit no matter how long they choose to stay there!
Discover the Local Food Scene
Kelowna's food scene is an exciting experience for any visitor.
For a unique culinary experience, the Downtown Market offers a wide array of locally grown and produced foods with its farmers markets, artisans and vendors.
Tree Brewing Beer Institute is another great option for sampling the local brews, boasting multiple micro-brewery locations in town that serve up delicious craft beers.
With its diverse selection of eateries and drinks to choose from, Kelowna has something to satisfy every taste.
Take a Bite Out of the Downtown Market
The Downtown Market of Kelowna offers a unique culinary experience, providing a wide variety of fresh local produce and artisanal goods. RVers can take advantage of the market's diverse selection by participating in tasting tours that provide an overview of the region's distinct agricultural offerings. The tours typically include stops at multiple farm stands where visitors can sample products from farmers and producers. For those with more time on their hands, there are also longer excursions to nearby vineyards and orchards, giving travelers a chance to explore the area's rich food culture.
In addition to sampling regional delicacies, visitors can purchase items directly from vendors in the market or visit one of its many speciality shops for unique souvenirs and gifts. From gourmet cheeses to handmade jewelry, there is something for everyone at the Downtown Market! There are also live cooking demonstrations throughout the week that feature local chefs who showcase their signature dishes using ingredients sourced directly from surrounding farms. With so much to offer, it is easy to see why this bustling farmer's market is such a popular destination for RVers visiting Kelowna!
|Tour Type | Description |
|—|—|
|Tasting Tours | Guided tour through various farm stands with samples of products from farmers/producers |
|Vineyards & Orchards Excursions | Longer excursion with stops at vineyards & orchards for exploration into area's food culture |
|Speciality Shops | Unique souvenirs/gifts available from vendors in the market |
|Cooking Demonstrations | Feature local chefs showcasing signature dishes using ingredients sourced locally | and demonstrating traditional cooking techniques.
Enjoy the Local Brews at Tree Brewing Beer Institute
Continuing the exploration of Kelowna's downtown district, a visit to Tree Brewing Beer Institute is an excellent way to experience some of the local flavours.
This brewery offers tasting tours that allow visitors to discover their range of fresh and craft beers.
The brewery culture at Tree Brewing Beer Institute is lively and inviting, making it an ideal spot for those looking to enjoy the local brews.
The tasting tour gives participants a chance to test different varieties of beer, from classic lagers and ales to IPAs and stouts.
The knowledgeable staff provide helpful insight throughout the tour, giving guests a unique opportunity to learn more about brewing techniques as well as beer styles.
Visitors also have access to exclusive merchandise available only at Tree Brewing Beer Institute, further enhancing their experience with this popular brewery.
Take a Hike at Knox Mountain Park
Knox Mountain Park offers a unique experience of scenic views and challenging trails for those looking to go on a hike.
Located in the heart of Kelowna, this park provides an excellent opportunity to explore nature trails with breathtaking views of Okanagan Lake.
Knox Mountain Park is home to diverse wildlife including black-tailed deer, bald eagles, and red-tailed hawks.
With its wide selection of trails ranging from easy to difficult, it is great for hikers of all levels.
The park also has many picnic areas with benches and tables that make it easy for visitors to relax after their hike and take in the stunning lake view.
In addition, there are several lookout points along the way where visitors can enjoy panoramic vistas of Kelowna before continuing their exploration.
For those who seek a more challenging experience, there are more rugged trails that offer plenty of elevation gain as well as technical sections that require more skill and determination to conquer.
Visitors should be sure to bring water and snacks if they plan on taking one of these hikes as some may take longer than expected due to the terrain or weather conditions.
Furthermore, appropriate gear such as hiking boots or trail runners should always be worn due to potential hazards like slippery surfaces or sharp rocks along the path.
With its abundance of natural beauty and variety in difficulty level, Knox Mountain Park is perfect for RVers looking for a memorable outdoor adventure in Kelowna.
Conclusion
The Okanagan Valley is a great destination for RVers, offering plenty of things to do and see.
From wine tasting in the local wineries to hiking Knox Mountain Park, there's something for everyone.
The Myra Canyon Trestles are also worth a visit, as they provide stunning views of the valley.
And don't forget about Okanagan Lake – it's perfect for swimming and sunbathing!
Moreover, Kelowna has an amazing food scene that should not be missed.
All these activities will surely make your trip to Kelowna unforgettable, like a dream come true.
As Mark Twain said,'Twenty years from now you will be more disappointed by the things that you didn't do than by the ones you did do'.
So go out and explore all that this beautiful city has to offer!