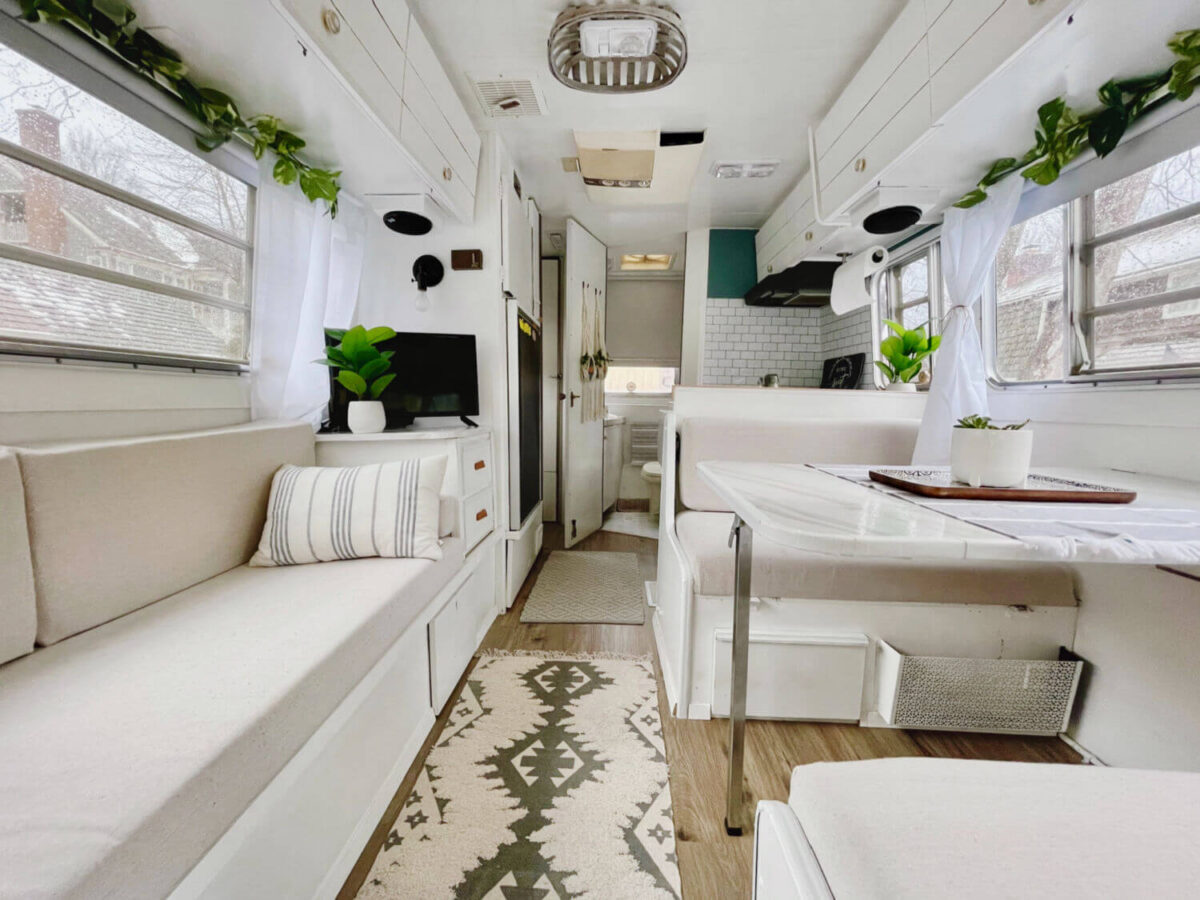 Try these easy RV renovations that WOW
Feeling at home in a dank and dated camper is not an easy task. But with minimal effort and cost, these RV renovations will make over your rig and reinvigorate your love of camping:
Furniture
While bigger might've been better a few decades ago, now there's a huge variety of compact, lightweight furniture on the market. It's the perfect time to swap out your furnishings and reclaim your space and style. Don't be afraid to shop used if you're on a tight budget.
Reupholster
For an inexpensive, quick fix, give your furniture a facelift. Fresh fabric on seat cushions and a new slip cover can update your whole RV in just an afternoon.
Appliances
Old appliances aren't just an eyesore, but they're inefficient, heavy, and might conk out in the middle of your trip. Upgrading aged appliances can also make room for awesome gadgets like a washer/dryer combo or a bigger fridge.
Paint
A few well-selected colours on walls, tables, and chairs make for a fast and cheap makeover. Choose lighter colours to make your space feel larger, and pick ones with cool undertones to modernize it. Check out The Expert Guide to Painting your RV to find out everything you need to know before you get started.
Wainscoting
If you thought panelling was the enemy, this high-end finish might change your mind. Half-wall panelling adds definition and works wonders for protecting walls. Use it in bathrooms and bedrooms for a luxurious touch.
Drapes
Functional blackout drapes can make your road trip even more restful. Use the same colour palette as your walls and furniture for a relaxing and beautiful RV interior. Solid, bold accent colours will add zest to a space without being overwhelming.
Lighting
You don't typically need much lighting in an RV, so for the few fixtures that you have, make them count. Swap out bulky fluorescents for sleek, energy efficient LEDs to make a big impact on your RV's look and extend its battery life.
A few quick RV renovations will make your camper feel like new. List your rig on RV Travel Central and watch your work really pay off: You can make up to $30,000 a year by renting out your RV!
Your next adventure starts here by searching thousands of available RVs for rent.