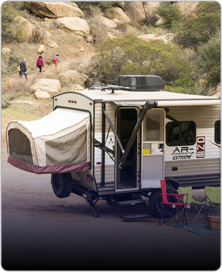 Thanksgiving Dinner Camp Style
We are just days away from one of the most food-focused holidays: Thanksgiving! The weather may be chilling, but since it's a long weekend and there's still no long-lasting snow (knock on wood) it is a really great time to get the family out for another camping trip. There are tons of reasons that camping in the fall is awesome, but getting away from the hustle of city life and slowing down a bit will give you the perfect chance to take a breath and reflect on everything you have to be thankful for. What's Thanksgiving without an awesome dinner, though?! We're here to tell you that you can still have a fabulous holiday feast, even if you're tucked away deep in the woods. This is a collection of our fave recipes that work together to make one fantastic Thanksgiving celebration.
The main attraction
What's a Thanksgiving dinner without a big, juicy turkey?! Hardly Thanksgiving! The main dish for the holiday, unfortunately, the toughest one to master on a camping trip. If you are feeling very classic, it's totally possible to cook a smaller portion of the turkey in some RV ovens. A half Turkey will fit into many ovens, and you can go about cooking it the same way you normally would, just with a shorter cook time.
If you're set on having a full turkey or want to branch out and try something a little more campy, think about going for a Campfire Roasted Turkey, which is sure to be a hit at dinner. We like this recipe (method 2), which is pretty simple yet delicious! Method 1 is another great choice if you already have a dutch oven that you can use.
Alternatively, if you have a camping grill and a turkey sitter, this Beer-Can Turkey Recipe will guarantee an unbelievably juicy bird.
A little underrated but dearly loved
Sides tend to fall by the wayside relative to the fame that turkey gets on the big day, but no dinner would be complete without these unsung heroes! These are a little easier to cook on the go and they have a little more room for improvisation or substitution. The best part is that a lot of side dishes can be made ahead of time and then just heated up right before dinner. If you plan on going old school and making everything while you're camping though, these are some of our favorite camping side dishes.
Stuffing is the turkey's number one partner in crime. This recipe for Herb Stuffing is not only simple and can be quickly whipped up on the stovetop, but doesn't require many ingredients and can be easily changed up by adding your own herbs or adding in cranberries.
No Thanksgiving is fully complete without at least one fall harvest vegetable! Our go-to is the sweet potato. Not only are these unbelievably easy to make and the recipe is just as easy even if you need to make 15 of them, but they are seriously customizable! You can easily take them in a sweet or savoury direction with this Campfire Baked Sweet Potato Recipe or you can just stick to plain old delicious sweet potatoes.
This Italian Sausage and Pumpkin Hot Dish Recipe make it onto our sides list for a couple reason. First, you've gotta have some grains of course! Second, it is another recipe that is really simple to make and can be done on the campfire or on the stove. Third, and most importantly, it is ridiculously cute because it is served in mini pumpkins!
Have your cake and eat it too
Or in our case, your pie! This is the finishing touch on every great Thanksgiving dinner. Nobody can resist a delicious pie to fill up the rest of their belly after such a delicious meal. Even when you think you've had enough, there's always a little room for one of these!
These Pumpkin Pies in a Pie Iron will make you forget all about the store bought version. The sugar-spice and pumpkin mixture can be mixed before you head out to cut down on cleaning later and just to give you a little less to think about! Bonus point for this recipe because you can easily switch out the fruit in this recipe and adjust the spices a little bit to your taste.
This Campfire Apple Crisp Recipe is another tasty and cozy treat for those who aren't pumpkin fans. This is another recipe that will still turn out well if you change it up a little according to your own tastes, and you won't need any special tools for it. Best of all, this pie won't require any clean up either!
Drink happy thoughts
What better way to finish off an incredible meal than with a festive drink to warm you up. These cocktails will also make for awesome appetizers if you're waiting for the turkey to finish cooking.
Mulled wine is the cold weather version of Sangria, and though it may be unexpected, this is exactly the drink you've been hoping to find to keep you warm this fall. This Campfire Mulled Wine Recipe is simple, requires minimal work, and the reward is much greater than the effort put into making it
This Spiked Pumpkin Chai is comfort in a mug. Another one that is extremely simple to make, but you'll be dreaming about all night. If you've got kiddos with you, this one can easily be made non-alcoholic just by omitting the whiskey.
Now that you've got the knowledge to make a killer Thanksgiving dinner even while you're off the grid, get out there and show off your skills to your friends and family! Got any other camping recipes that you think would be perfect for Thanksgiving? Share them with us in the comments, so that we can give them a try!
Happy Thanksgiving!
RVTravelCentral
Find the perfect trailer to rent for the weekend here!