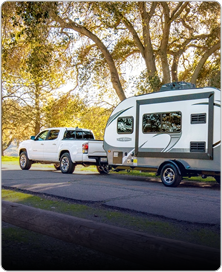 RV Rentrepreneur Spotlight: Cam & Tracy Rice
"The money is great but we love meeting new people!"
When Cam and Tracy, a local Calgary couple, were driving home from a camping trip, the idea struck Tracy that she wanted to rent out their trailer to make some money on the side. "I turned to Cam and asked him if he thought we'd be able to rent it out. The idea sounded good to both of us so I Googled options and that's when RVTravelCentral came up." After reviewing the website in depth and then calling the RVTravelCentral team to learn more, they decided to move ahead.
They found the process extremely easy and were impressed by the support from the RVTravelCentral team. Unlike many, Cam and Tracy had no trepidation renting out their trailer. "We are so easy going and RVTravelCentral really does the part of checking renters, requiring them to fill out forms, etc. before we even talk to them. Also, the fact that the insurance is included so the owners don't have to worry, took away any concerns. The thing I like most about RVTravelCentral is how easy they are to deal with. You know they are always there to help so there is no stress on us."
The first summer Cam and Tracy rented their trailer out about a dozen times but this past summer it exploded! "We've had so many repeat customers," Tracy explained. "We always hear really amazing feedback from our guests and have received numerous great reviews on our listing."
Tracy and Cam are so passionate about camping that they've shifted the focus from being about making the extra money to really being about providing experiences for others. "The money has helped us through some stuff that we would have not been able to do like extra bills and such. But really, while the money is great, we love meeting new people and giving them the chance to enjoy the camping experience without having to buy a trailer."
They mean this so much so that when asked where they hope to travel with the trailer next – Tracy replied "I hope to just let people enjoy the trailer! But if we do use it, we'll go to the back woods away from the city."
If you are interested in renting out Cam and Tracy's trailer, you can check it out here.