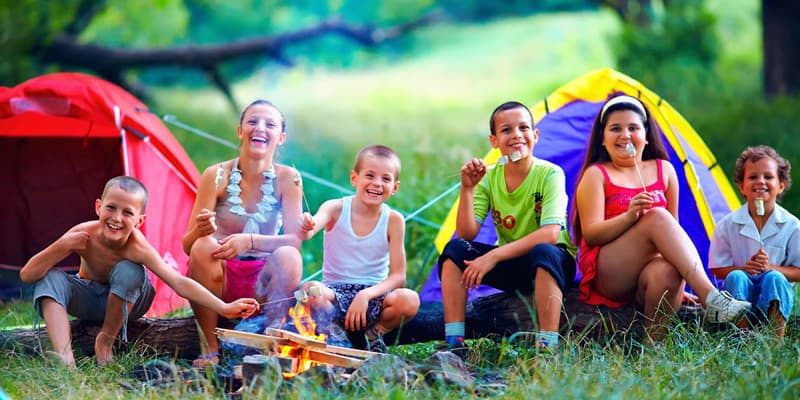 RV Camping with Little Ones
RV'ing with children is an incredible way for the whole family to experience new adventures and explore uncharted areas – all from the safety and comfort of a home on wheels.
Kids don't travel light, so being equipped in a mobile space to bring along supplies and snacks can help cut down on worry and inconvenience in unfamiliar places.
Below are our top five travel tips for the whole family to benefit from your next RV road trip:
1. Safety First
Kids can often be bursting at the seams to get out and explore once you've arrived at your final-destination and all along the way at any pit-stops.
But it's important before opening the door to all the fun awaiting them to keep any new potential hazards that your camping trip might present top of mind.
Some common dangers to protect little ones from while on the road and camping:
Insect bites
Poisonous plants
Wildlife
Fire-pits
Contaminated water
Unsafe terrain
Wherever your trip takes you, it's important to research the area and go over any differences and hazards kids might come across.
It's a good idea to implement some family emergency tactics such as a Lost Plan – if anyone gets separated go to the nearest phone, or pre-designated landmark etc.
Ensure everyone knows what to do, where to be, and how to contact one another in the event of getting lost or injured.
This trip may be one of the first taken with little ones in tow, so it's a great opportunity to build resilience and independence in your children in small steps before bigger events like sleep-away summer camp.
2. The Best Fit for Your Family
While the type of RV you own has the biggest impact on family comfort, the places you choose to visit should also be a consideration. All RV campgrounds share common core offerings but many specialize in providing different experiences.
It's best to research and book a campground that suits your family including what's right for your little ones. Most are family friendly but you don't want to chance it and end up in a senior-citizens only area with children running wild.
One of the benefits of RV camping with kids is the opportunity to connect with other campers and make new friends. So making sure wherever you're setting up camp has fellow campers that suit your family is a must.
It helps to get clear on your family's camping style. Are you big hikers who spend a lot of time outdoors? Or do you seek out plenty of close-to-mobile-home activities that the kids can participate in with little supervision?
Every campground offers something a little different with plenty of helpful information online and camper reviews to mine for the perfect fit.
3. Keep it Light Enough to Travel
WE like making memories over getting bogged down with a lot of material things. It isn't necessary to bring absolutely everything you own, but it's always good to come prepared and pack enough for different weather conditions.
Some can't leave home without items are of course your First Aid Kit and rainy day activities to keep your little ones busy like board games and craft supplies.
It helps to plan how you utilize your limited space for the most efficient, stress-free storage. Stashing everything into cupboards and out of sight doesn't make things easier.
A few smart bins and some clothes hangers can make all the difference from living out of a suitcase to settling into your new home on wheels. Stow any gear you won't need until arriving at your destination in outside compartments.
You can't control the weather but you can control how prepared you are, and it's good to keep in mind with your RV, you aren't so vulnerable to the regular elements and risks of traditional camping. That's the beauty of WE travel!
4. Be Seated & Buckle Up
RV seatbelt laws vary depending on what state or province you're traveling through but it's always a good idea to buckle up.
For a forward-facing little one – the passenger seat is your safest spot (if there's no passenger airbag, consider a rear-facing car seat).
For bigger families try to travel in your tow vehicle for safety standard buckle options.
Despite the class of RV, manufacturers are only required to comply with seat belt standards for front passenger seating. So installing custom seats can be a smart upgrade.
While it's tempting to let little ones roam free, unexpected hazards can crop up in a moving vehicle as items shift around at turns, bumps, and braking. Consider implementing a family rule to stay seated and buckled when in motion.
5. Pit-Spot Plan
It's especially important with younger passengers in tow to plan for at least one stop a day where the whole family can get out, get some movement in and explore the area.
Particularly on longer trips, it's a great idea to plan some pit-stops beforehand and map out places with amenities you need and interesting sights to see.
Even the smallest of towns you might be passing through often offer roadside attractions, exhibitions and local delicacies that can make for some of the best memories on your trip.
When in doubt, dedicated rest stops and way stations always work in a pinch and many have big chain fast food restaurants complete with ball pits and play areas.
Tight-Knit Families Travel Together
Traveling as a family on an RV camping trip can provide your little ones with incredible experiences and memories to last a lifetime. It's a bonding activity and adventure all in one.
Remember to relax and enjoy your precious time together on the open road and setting up camp in new and exciting places. You can book an RV at RvTravelCentral
Foster your little ones' curiosity and expand the whole family's horizons without breaking the bank on accommodation and travel expenses with an RV adventure. Where will your next one take you?