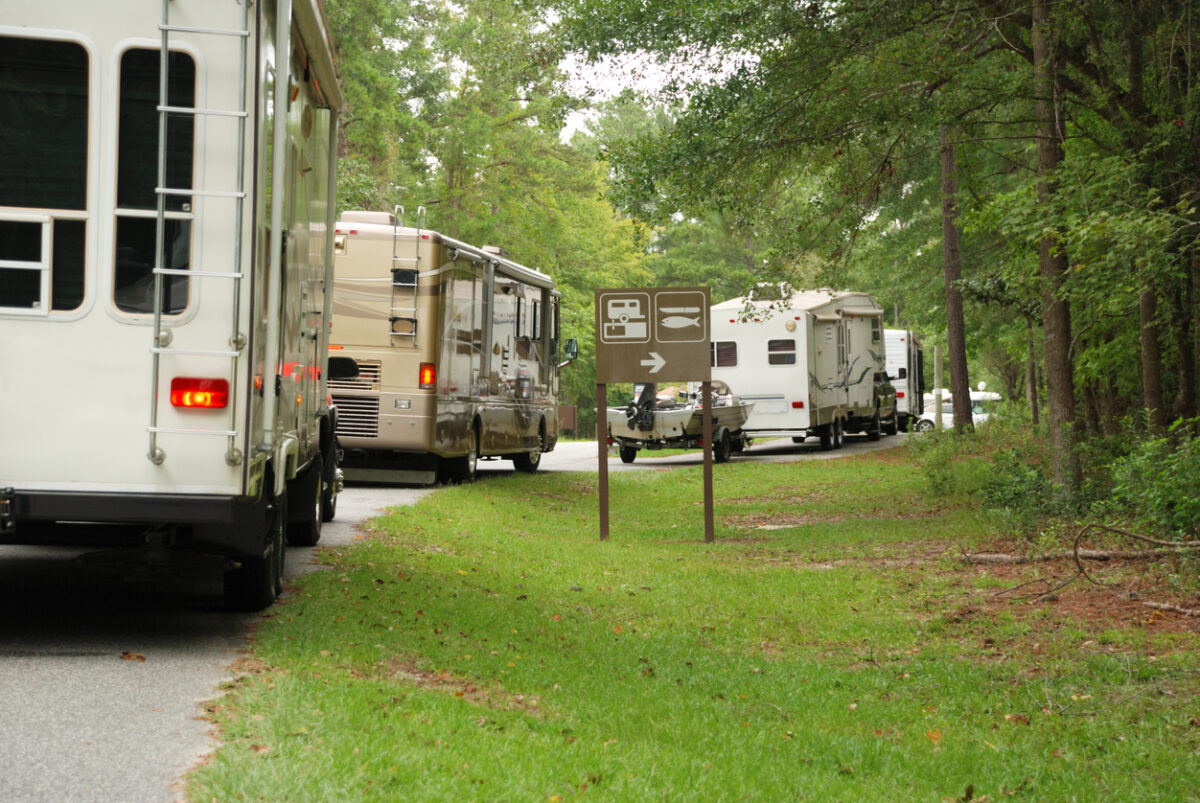 RV Camping with Furry Friends
Exploring the world with a furry co-pilot is one of the best ways to enjoy the WE life. Nothing is better for pet-friendly trips than a vehicle providing all the comforts of home on four wheels.
Cats, dogs, rabbits, guinea pigs and more can all adapt in time, after getting used to changes in their surroundings making them great travel companions.
Before packing up and hitting the road, it's always good to remember you're not just uprooting your life, but theirs too.
So here are our top 5 tips to make traveling with your pet, a safe and worry-free adventure:
1. Pet Personality Prep
It's easy for us to switch between stationary and mobile living, but our furry friends sometimes need a little extra time to get used to new conditions. It's always a good idea to keep the following in mind before taking your pet out on the open road:
Adaptability Test-Run: Is your four-legged friend a natural in new settings or does a change of pace tend to change their mood? Try a few smaller test-runs before the big trip to observe their behavior when switching between various settings.
Easing into RV Life: Patience is key when helping your pet grow accustomed to RV life. Initiate the process by putting some of their belongings inside the camper, making some sights and smells more familiar – giving them a chance to explore and adjust.
Hit the Gas: Once your pet is cozy in their new home, you can put things in motion. Try hitting the road on a small trip with a co-pilot partner to take turns driving, observing, and training your pet.
2. Pet-Friendly Mobile Living
Animals are curious by nature and can get into all sorts of trouble at home. It makes for endless enjoyable hours of internet video and anecdotes with a lot of mileage around the dinner table. While they make great stories, placing pets into a new environment like an RV can really up the stakes on wild antics.
Safeguarding your RV from animal mayhem can be as simple as ticking these boxes off your checklist:
Crate Train Pre-Trip: If your pet isn't yet a pro at spending time crate side, it's important to train them before your adventure. The more familiar they get with the routine and space, the easier the transition will be.
Prevent Snack Attacks: When rambling on, every pit stop is a virtual smorgasbord of junk food. While gas station snacks are good on the go, they aren't always healthy for sneaky pets digging into chip bags and chocolate wrappers while you've got your eyes on the road.
Just like at home it's important to keep human food out of pet reach.
Pet-Friendly Pit-Stops: Be sure to plan adequate stops for everyone on board with time for exercise and bathroom breaks. Not every spot along the way is pet-friendly, it can help to research a few places.
Proper ID: Making tracks can make for a lot of guesswork if your furry friend takes off and goes missing. Make sure your pet is properly tagged with id and harnessed or leashed along your journey.
3. Healthy Pets Make Happy Pets
Environmental changes while RV'ing can put your pet at risk for illness from things like local water sources, fleas and ticks. Keep them healthy, happy and road ready with:
A Vet Visit: Even if your pet's in perfect health, it's always a good idea to visit the vet before an RV trip. The vet will help you identify health hazards and help safeguard with any required shots depending on the region you plan to visit.
Filtered Water: Filtered water shouldn't be reserved for your human travel companions but shared with any furry ones too to prevent contamination and upset stomachs. The last thing you want is a dog or other animal with digestive issues while you're trapped in a small space hurtling down the highway.
Pest Protection: Different campgrounds and climates mean different insects to safeguard your whole crew from. It's always a good idea to travel with an all-purpose tick and flea repellant to protect your pet from the torture of hungry swarming insects.
4. Responsible Pet Parenting
Our last suggestion for RV travel with pets is to always be courteous to your RV park and campground neighbors. You can book an RV on RvTravelCentral for your perfect trip.
While it's hard to fathom, some other campers might not share the same affection for your furry loved ones. (WE loves animals – so WE don't get why but…)
Remember to keep your pets on a leash when strolling through the campground. And while enjoying the wild, try not to let your pet wander too far or aggravate different creatures or campers.
Be sure to check out the various conditions and advisories in national parks for a heads-up on animals and wildlife to look out for.
Is your Pet Ready to Hit the Open Road?
Living and traveling with pets can be a ruff ride at times, but with the easy tips above, the memories you make along the way will make up for any speed bumps.
With some reasonable prep and consideration, there's no reason your furry friends have to sit out your next adventure on the road.
WE say hey, bring the whole family pets and all – the more the merrier!