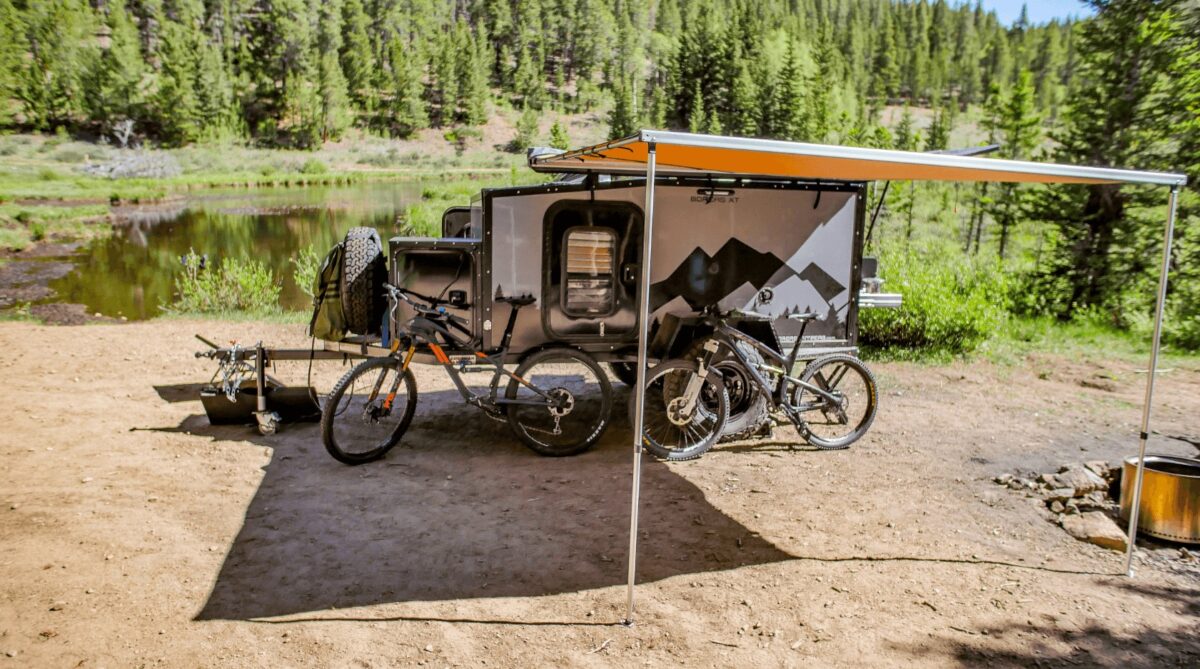 RV Adventure Hiking Trail Spotlight BC
WE love hiking. RV travel can open up a whole bunch of different adventures and opportunities to see the great outdoors.
And one of the best parts? The convenience and comfort of returning to your RV to rest after a long trek.
A great work out with fresh air benefits, here's a list of some of the best places to experience the beauty of nature and get your steps in while on the road this summer in British Columbia. Also you can check RV's for rent in BC and list your RV for rent in BC on RvTravelcentral.
Stawamus Chief
Squamish BC
Difficulty Level: Moderate
Time: 3 hours
Distance: 7 km
This popular trail is great for a half day hike and provides incredible views from the summit of the Squamish Valley, the town of Squamish Howe Sound and all the nearby mountaintops.
Climbing The Chief is a moderate, well-trafficked climb, but WE recommend always wearing the right footwear and hiking with plenty of water and any emergency supplies you might need.
Get there by heading to Squamish along Highway 99, the trailhead starts just past the Stawamus Chief Provincial Park sign.
Mount Cheam
Chilliwack BC
Difficulty Level: Moderate
Time: 4 hours
Distance: 9.5 km
With the highest point at 2,111 meters, you'll reach great heights and wide open spaces on this hike.
The mountain trail crisscrosses its way up through a stunning landscape with views all the way.
Start from the trailhead (WE recommend a 4×4 vehicle to get there) near the Chipmunk Creek Forest Service Road.
Elfin Lakes Trail
Garibaldi Provincial Park BC
Difficulty level: Moderate
Time: 8 hours
Distance: 23 km
The first four kilometers from the trailhead are the steepest on this scenic climb but worth the scramble when you reach Red Heather Meadows – the perfect place to stop for lunch.
The views don't stop on this hike, plenty of picturesque scenes to snap including a drop down to Elfin Lake through glades of heather.
For those who like to take their time, there are nearby local spots to spend the night and turn your day hike into a weekend adventure.
The Lions Trail
West Vancouver BC
Difficulty Level: High
Time: 7 hours
Distance: 15 km
The two most notable peaks viewed from the city of Vancouver – The Lions offer a challenging climb and panoramic view from Howe Sound to Capilano Watershed all the way down to the city.
A series of switchbacks take you gradually uphill from your start at the yellow gate in Lions Bay after a fork that heads to Mount Harvey.
Keep right and continue uphill and enjoy the scenic waterfall views as you wrap around the mountainside.
After a bridge crossing at Harvey Creek, enjoy the views from the clearing looking out on Howe Sound and Bowen Island.
The next section gets steeper as you climb through Douglas Fir and Western Red Cedar forest before reaching the final breathtaking top view of the West Lions.
Cape Scott Provincial Park Trails
Cape Scott Provincial Park BC
Difficulty Level: Moderate
Time: 2 days
Distance: 24 km
This trail takes you from Cape Scott Provincial Park near Port Hardy along a rough and remote path.
WE highly recommend preparing before setting out with plenty of layers for inclement weather and trail conditions. And be sure to keep an eye out for bears, cougars and other wildlife.
There are many accessible campgrounds along the way, to break and rest for the night.
The Dogtooth Traverse
Kicking Horse BC
Difficulty Level: Difficult
Time: approximately 8 hours
Distance: 16 km
This hike begins with a scenic gondola ride from Kicking Horse Mountain Resort. For those who prefer the path less traveled, it's possible to bypass the gondola and begin your climb on foot.
The climb gets challenging in the Purcell Mountains through the Dogtooth range. Be sure to take in all the views as you pass through Canyon and Holt creeks, and the Holt and Gorman lakes.
Exploring British Columbia by Motorhome
Less expensive than hotels or motels and more convenient than tent camping, an RV hiking vacation is a perfect way to explore the wilderness of British Columbia.
Get off the beaten track, camp in the middle of nowhere and stargaze by the campfire. Choose your own route, drive at your own pace and pick where you camp for the night.
There are many RV parks throughout B.C with direct access to hiking trails, where you can walk straight out of your motorhome and take off on an adventure.
Enjoy the opportunity to get off the beaten track and go on a real adventure without sacrificing the comforts of home.