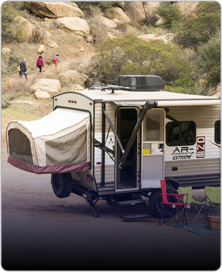 Lunch and Snacks Ideal for RV's
Setting out on an RV adventure means experiencing new sights, sounds, and tastes.
While on the road it's common to consume more fast food from pit-stops and less home cooked healthy meals but it doesn't have to be that way.
After all, WE travel is the only way to road trip where you actually can bring the kitchen sink with you!
Part of exploring new locales can include fresh food markets and exchanging new recipes with fellow travelers at your campground.
With a few key cooking tools and a small space, these easy recipes are a sure thing for lunch and snacks in your RV.
Campfire Quesadillas
Tortillas and quesadillas are the ideal lunch and snack when you're searching for something simple to make yet super tasty.
Easy to pack into the smallest of RV fridges, tortillas serve as the base for all the fresh local ingredients you can pick up along the way.
Ingredients:
2 teaspoons oil
1/2 medium red onion, thinly sliced
10 button or cremini mushrooms, thinly sliced
1/2 cup corn
salt and pepper, to taste
4 flour tortillas
1 cup shredded pepper jack cheese
Try grilling them over the campfire in a basket, or in a rained-out pinch, simply microwave them in your RV for fast, gooey, cheesy, goodness.
To make the campfire quesadillas all you need is some tinfoil and a grate or grill. The beauty of wrapping these quesadillas in foil is you'll need no utensils or plates to serve them on!
Campfire Mac & Cheese
Speaking of cheese, WE never travel without our mainstay of good 'ole mac and cheese. It's an easy just-in-time meal that can be made without an oven after a long day of hiking and exploring the great outdoors. Try Tammy from Dallas' campfire version with:
Ingredients
1 disposable aluminum pie pan
1/2 cup cooked elbow macaroni
1/4 cup shredded cheddar cheese
1 Tablespoon Parmesan cheese
1 Tablespoon milk
1/2 Tablespoon butter
salt and pepper to taste
Great comfort food and camping food, toss in whatever extras you like. Kid-approved favorites include cut up hot dogs and plenty of cheese.
One Pot Wonder
Along with your mainstay mac and cheese supply, pasta in general is great to stock up on as a durable ingredient in your RV pantry. An easy staple to mix with plenty of fresh veggies and sauces to experiment with.
This easy recipe from Amanda Finks takes pasta next level with black beans, corn, and bell peppers. Spiced up with taco seasoning you likely have lying around in your RV cupboards already.
With limited supplies and storage space, one-pot recipes are perfect for RV meals. The method requires tossing all ingredients in one large pot, covering, and cooking for about 15 minutes.
And that's it! The pasta absorbs the broth and other liquids from veggies transforming into a creamy sauce.
All you need for Amanda's Southwest One Pot Wonder pasta is:
Ingredients
1 (13.5 oz.) box of whole wheat rotini or any pasta you like
2 cups frozen corn kernels
1 medium green bell pepper, cut into thin strips
1/2 medium red onion, sliced
1 (15 oz.) can tomatoes and chilies
1/4 cup taco seasoning
1 tsp. salt
2 tsp. extra virgin olive oil
4 cups fat-free chicken or vegetable broth
1 (15 oz.) can black beans, drained and rinsed
1/4 cup Mexican cheese blend, plus more for topping (Optional)
Get the details from The Whole Dish here for easy prep and fast mealtime – just one pot in 30 minutes to be enjoyed by all vegetarian and meat lovers alike.
All-in-One Burger
Burgers are the quintessential summer food and easy to prepare over a skillet on your stovetop or grill. Betty B of Saginaw, MI shares her fail-proof campground method with a few simple ingredients you can pick up anywhere:
Ingredients
ground beef
1 small onion
1 carrot
1 potato
1/2 cup breadcrumbs
1 egg
salt
pepper
This is a recipe little ones can help with too at a safe distance from cutting and grilling, they can help roll and form the patties – the fixings on top and side dishes all depend on what's fresh in the area. Plan an excursion with the whole family to track down your best burger toppings.
Side Notes: Many of these dishes are stand-alone stars with easy prep and limited cooking tools required but don't forget the wonder of tinfoil in preparing side dishes and just about anything over the fire.
Throw your broccoli, brussell sprouts and other veggies tossed in olive oil with salt and pepper, broth or even wine in a double sheet of tin foil and wrap it tightly like a baked potato. Steam over the fire or grill for about ten minutes and enjoy!
Grilled Fruit Kabobs
For sweet tooth travelers try these easy fruit kabobs on the grill for a healthy dessert or snack. An easy add-on while the grill is still hot from burgers for lunch – throw these on while you eat your mains.
Use whatever fresh fruit is in season where you're setting up camp. Some great ingredients to include:
Ingredients:
1/2 cup margarine
1/4 cup honey
3 fresh peaches, pitted and quartered
3 fresh plums, pitted and quartered
3 bananas, cut into 4 pieces each
12 strawberries, hulled
12 skewers
This works especially well with under-ripe fruit too tough to snack on as is and makes great chilled leftovers to carry you through the whole day.
Bon Appetite!
Exploring and having fun in an RV doesn't mean you have to cut corners with cooking. In fact, it's an awesome opportunity to try fun new meals and methods.
With a few simple ingredients and the know-how to hunt and gather your fixings wherever WE travel takes you, no one in your RV will go hungry – they'll be shouting for seconds.
To book RVs for rent or to list your RV for rent visit RVTravelCentral