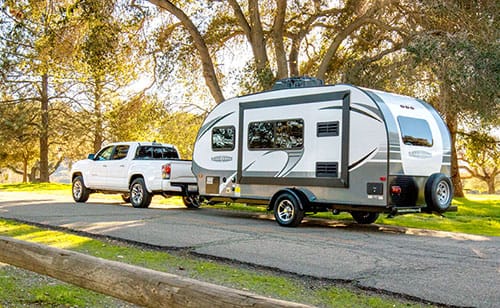 How to prep your renter for towing a trailer
Trusting a stranger with towing a trailer can be a hard pill to swallow. Even our RV Travel Central RV Owner Community has had concerns and questions. We've gathered insights from years of trial and error to help you out.
Here's what people who are experienced in renting out their rigs say about preparing your renter for towing a trailer:

What makes a good 'tow-er'
We weren't all born knowing how to tow like a champ. Like most things, time is the ultimate differentiator between expert tow-ers and likely liabilities. The more experience someone has hauling weight and driving RVs, the less likely they are to botch the situation.
What you know know before you rent out your trailer
Before you accept a rental request, have them answer these questions about their experience and plans:
Do you have any experience

towing a trailer

? What is the largest one you've towed?

Will anyone else be driving the tow vehicle? Do they have towing experience?

What vehicle will you use to tow my trailer? What is the towing capacity? Does it have an electronic brake controller? Is your hitch compatible?

How far will you tow the trailer and to where? Will you be at a campground or residence, or boondocking?
The more you know about the renter and their trip, the easier it'll be to help them prepare for towing your trailer. To speed up the process, consider creating a video on how to tow your rig.
What your renter should know
Before your renter takes off with your towable, make sure they're up to date on:
To put your mind at ease, ask to ride along on a practice drive. You can observe their towing skills and answer any questions before they take off. Some people don't know how to properly back up a trailer, so you want to make sure they're well prepared.
Alternatives to towing an RV
If the thought of letting a renter haul your rig is still making you uneasy, there are other options. List your trailer on RV Travel Central and provide drop off and pick up for each client. You can still make some sweet cash, and they'll have an awesome, stress-free trip.