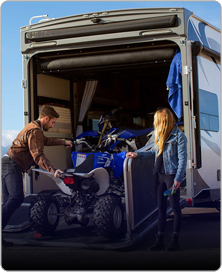 Home Cooked Meals on Wheels
Vacationing in an RV is an excellent way to travel without leaving the comforts of home, although you might not have all the same stuff, most modern RVs come equipped with at least two stovetop burners. You can easily book an RV for rent from RvTravelCentral
And many campers pack a slow cooker along for the trip — it's a convenient, hassle-free way to get an easy, delicious dinner together while the family's out exploring.
What your RV kitchen lacks in space, you make up for in exploring the great outdoors.
And the grills you'll find at almost every campground make for a versatile and fun extension to your tiny kitchen.
So here's some of our best dinner ideas below to enjoy after a long day of exploring and relaxing in the great outdoors:
Caprese Grilled Chicken
For the carb conscious, gluten intolerant and flavor lovers alike this fresh summer dish is fast and easy to prepare and beyond delicious.
Ingredients:
6 grilled boneless skinless chicken breasts
1/4 cup balsamic vinegar
1 tablespoon butter
6 slices mozzarella cheese
6 slices tomato
6 large basil leaves
Get as fancy as you feel like with this food blogger's recipe and recommendations including homemade mint butter, but you can top your cuts of chicken however you see fit.
Try a sweet version over savory with a sprinkle of cinnamon and drizzle of honey. Have fun experimenting in your kitchen away from home – there's sure to be some willing taste testers all around the campground.
Bacon-Wrapped Trout
If your camping adventures take you near freshwater – why not try fishing for your next meal? Who says bacon has to be for breakfast?
Ingredients:
6 14-16-ounce rainbow trout, butterflied, bones removed
1 bunch flat-leaf parsley
1 bunch thyme
1/4 cup fresh sage leaves, thinly sliced
1 1/2 pounds thinly sliced bacon
Throw your catch of the day, wrapped in bacon and marinated with a few simple ingredients over the grill for a quick and delicious dinner.
Get the full scoop on prep details over at Bon Appetite. The solid dose of protein will fill you up after powering through a day full of adventure.
WE love grilled and steamed fish of all kinds. It's one of the healthiest and tastiest ways to cook freshly caught fish.
A fish can be steamed in a variety of ways. All you really need is some moisture and heat, and you can get creative with steaming techniques.
Try an aluminum foil packet filled with a little water, garlic ginger, soy, and your cleaned fish placed near an open fire for some rugged and delicious food prep.
Slow Cooker Chili
If you're headed out for a long day of adventuring, you'll need something warm and hearty when you get back to camp. Slow cooker chili can be the perfect solution, especially since you can make it out of canned and dried ingredients.
Just dump everything in and let it simmer in the slow cooker all day. Few things in life offer such delicious returns for such a small effor
WE like the kitchn's version that calls for:
Ingredients:
1 1/2 to 2 pounds boneless, skinless chicken breasts, thighs, or a mix
1 large yellow onion, diced
2 stalks celery, diced
2 (4-ounce) cans diced green chili peppers, preferably "fire-roasted", drained
3 cloves garlic, minced
2 teaspoons ground cumin
1 1/2 to 2 teaspoons kosher salt
1/2 teaspoon ground coriander
1/2 teaspoon dried oregano
1 bay leaf
4 cups low-sodium chicken broth
1 (15-ounce) can cannellini or navy beans, drained and rinsed
1 cup frozen corn kernels• To serve: shredded Monterey jack cheese, lime wedges, chopped cilantro, sour cream, hot sauce
Beef Kebabs
Dinner is generally when you gather people together for a big feast. Have fun with this recipe from Health for a leaner option that contains essential nutrients your body needs to rebuild the energy you used adventuring all day.
Ingredients:
1 (1-pound) beef tenderloin
2 teaspoons Worcestershire sauce
1 medium-size green bell pepper, cut into 20 squares
10 cherry tomatoes
10 small mushrooms
2 small yellow squash, cut into 10 slices
1/8 teaspoon black pepper
Cooking spray
1/4 teaspoon salt
Remember to soak your skewers before loading them up with all the goodness. About 30 minutes in water while you're busy chopping the other ingredients.
This is a fast favorite for dessert at the campground. It's incredibly tasty and only requires 4 ingredients, but feel free to mix in any other local finds.
Ingredients:
2 sticks butter or margarine
1 package of yellow cake mix
2 cans of peaches in syrup
Shortening to grease dutch oven
Get the prep details in Active's article here and be sure to include other fresh fruits and berries you pick to celebrate the summer.
With a little planning, meals can be easy and a big hit with all your fellow campers. Be sure to check for fire bans in the area you plan to travel and always bring some snacks and meals that don't require a campfire.
It helps to keep track of the recipes that work best and are family favorites on your camping trips so over time, you build a go-to reference of easy camper recipes.
Camping in the great outdoors is the main event, but having a delicious meal under the stars can make it all the memorable – and delicious.
WE say your appetite for adventure and for dinner should never have to be compromised.