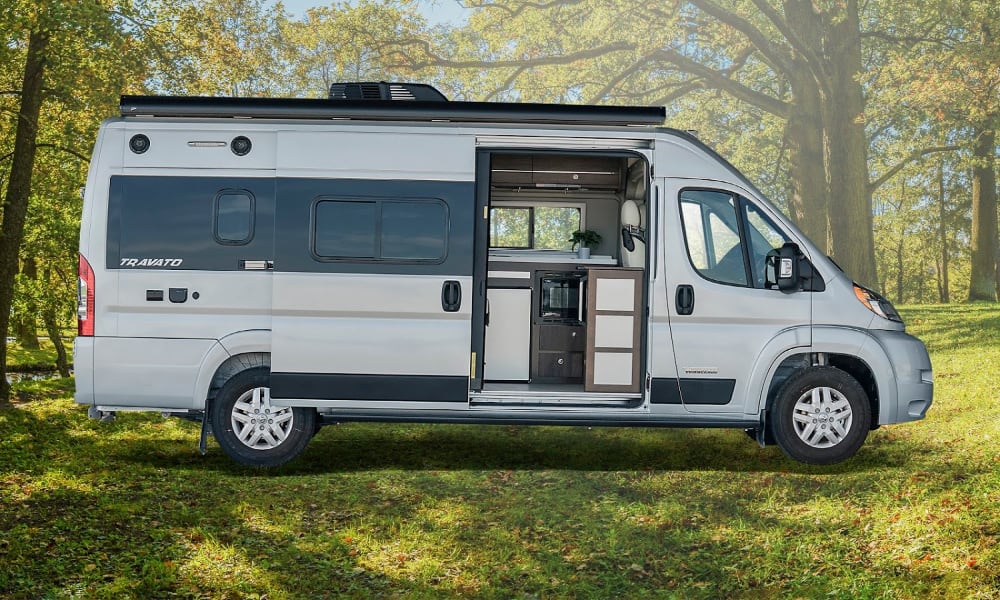 Gearing Up For Cold Weather
The temperature may be starting to drop but don't let that force you inside just yet. It's time to embrace the beauty of the changing season because it is here to stay. Despite the morning frost and the bouts of cold, fall camping can be an incredible experience for the entire family… as long as you're prepared. It can be hard to remember what you need to pack for this weather after a year has passed, but we've got you covered! Here are our top 5 suggestions of what to remember.
Camping threads to keep you warm and cozy
This is the TOP priority when the temp drops. Layers are something most Canadians keep in mind on a regular basis (hello, surprise snowfall in the middle of summer!), but the weather becomes even more unpredictable the closer we get to winter, so it is always best to be prepared, especially when you're out in the mountains. This layering is the perfect way to stay cozy warm, so you don't feel like you have to stay in your trailer all day and can get outside and enjoy going for hikes or playing games, or even snowshoeing and ice fishing later in the season.
Base Layer: Tight is right when it comes to base layers! Keep this layer close to the skin, and stick to fabrics that transport moisture well, like polypropylene or merino wool. Avoid cotton at all costs, since it will hold onto moisture and cool you down in the long run, yikes!
Mid Layer: Think of mid layers like base layer V2.0. It'll continue transporting sweat to outer layers to keep you warm. Again, stick to moisture-wicking fabrics here. Who doesn't love fleece?! Polypropylene and merino wool will work great here too!
Insulation Layer: This is where you want fluff! Common insulation layers include down and PrimaLoft, but there are many other options. The idea is that air gets trapped in the fluffy spaces and keeps you warm, so the more loft you have the more warmth you'll get.
Shell: Heck no H2O! Keep rain and wind out with a good old rain jacket. If you think you'll be moving around lots, like hiking, go for Gore-Tex, which is the best for breathability!.
Keep that noggin' cozy and your digits toasty
This one seems straightforward, but hey, it can be easy to forget these if they've been tucked away in a box for four months. Time to dust em' off though, since they're easy to pack and take up practically no space, but will save you a whole lot of shivering if the weather changes suddenly. We LOVE this awesome but classic toque from Camp Brand Goods and these cute mitts from CherryT. Co.
And killer footwear to boot!
It might not be the wettest time of the year, but even a little frost in the morning can make the ground wet and as soon as your feet get damp, that is game over. Take the safe route here and sport some waterproof footwear that is also nice and cozy, that way your toes will stay warm too. Ladies, hard to go wrong with these stylish but super practical boots from Cougar. Guys, check out these sleek boots from Ransom Holding Co.
Sock it to me
Speaking of warm footwear, good shoes are nothing without their trusty sidekick: good socks. Make sure you have quality socks. Again, not the place for cotton, and contrary to popular belief fuzzy Christmas socks are not the best option either. Stick to wicking fabrics, like our favourite, merino wool, which will keep your feet warm, draw moisture away and also retain heat even if it does get wet. Take a look at these colourful and comfy socks from The Great Canadian Sox.
The human burrito
Nothing beats a cozy cocoon that you can caterpillar into on a crisp night without having to count on a heater running on high. Kinda like the insulation layer that you wear, count on loft in your sleeping bag to keep you warm. The usual rule of thumb is that a puffy sleeping bag will keep you warmer than a non-poofy one. There is a silver lining (that's a pun and you're about to see why). If you already have a sleeping bag, but don't find it that warm, sleeping bag liners are amazing. With the right liner you can even increase the heat rating by 15 degrees, so you might as well get ready to feel like you're in the tropics. We love this ultra-toasty sleeping bag liner from Sea to Summit.
Keep this list in mind next time you're packing for a fall or winter adventure and you are sure to have a toasty time! Whenever you're buying new gear, make sure to do a little research and never be shy to ask all the questions that come to mind. Happy camping!
Check out our homepage to stay up to date and find your perfect trailer rental.