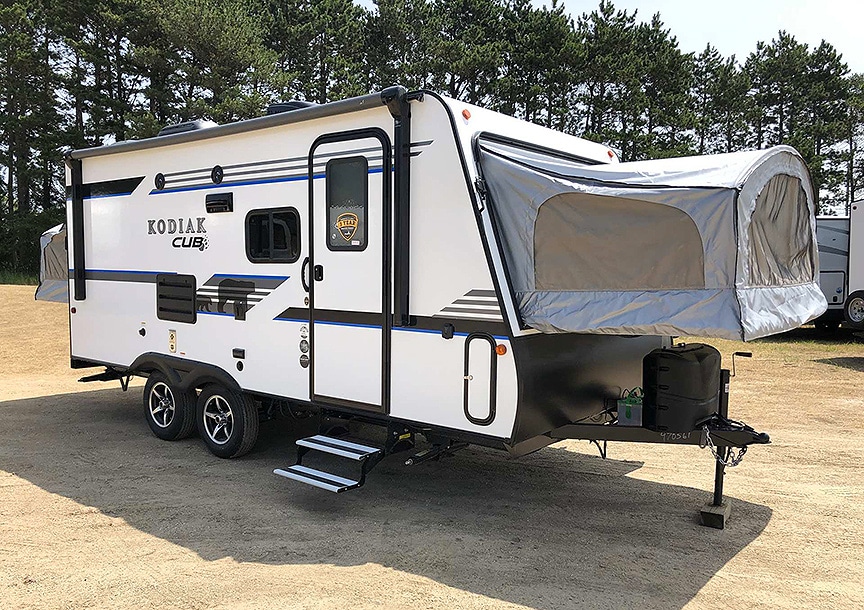 Camping in May? Here's what you need to pack!
Spring camping in Canada is awesome, but the weather can be a little confusing – as in experiencing all four seasons in the same afternoon is not unheard of this time of year. If you're having a bit of trouble figuring out what you should be packing, here's a list of some of our top priority items to have on hand for your upcoming camping adventures.
Merino Wool Socks
You probably know that wool socks are cozy in the winter, but the beauty of merino wool is that it reacts to body temperature, keeping you warm when it's cold out and vice versa. That's what makes this the best option to keep your feet comfortable no matter what weather changes occur.
Our pick: Icebreaker Socks
Rain Jacket
This might seem like a no brainer in the spring, but it can be easy to forget when the sun is out and the weather report is looking good. Truth is, it's hard to anticipate the conditions and things can change in a split second, play it safe and bring rain jackets for the family.
Our pick: The North Face Venture Rain Jacket (Available in Men's and Women's)
Tarp
Similarly, a tarp is a must-have for spring camping. If it rains, you've got shelter and can still hang with family and friends outside. If it's sunny, you've got a little shade to stay cool and protect your post-winter complexion from burning. It's a camping win-win.
Our pick: Woods Tarps
Sunscreen
SPF is crucial in the dead of summer, but its protection is useful throughout every season. If you're not a big fan of painful burns and awkward sunglasses tans, don't neglect this necessity when you're heading out for the weekend.
Our pick: Coppertone Sport Sunscreen Lotion
Bug Spray
Now that your skin is protected from the sun, make sure it's protected from bugs too! While you can get away with not using bug spray in most seasons, spring isn't really one of them. Mosquito season in Canada can start as early as April some years, so make sure that you've got repellent handy to ward off any unwanted visitors during your vacation.
Our pick: OFF! Insect Repellent
Fire Starters
Fire Starters can be a lifesaver during rainy months. Getting a flame to ignite on damp wood can be a challenge to say the least, especially when you're using a normal match. Fire starters are designed to light in any condition and can burn for multiple minutes, giving the firewood a fighting chance, not to mention upping your chances of enjoying s'mores fireside.
Our pick: Coghlan's Waterproof Fire Sticks
Warm Layers
When you're spring camping in Canada, you should prepare for four seasons – winter included. Stay warm if temperatures drop or a little snow starts to fall with layers. Putting on a lightly insulated jacket under your rain jacket will work to protect you from all any elements you might have to face.
Our pick: Arc'teryx Atom LT Hoody (Available in Men's and Women's)
Sturdy Waterproof Footwear
Good, durable footwear is great anytime you head out into nature, but if you're planning on hiking then it's a key item to pack with you. With all the snow finally starting to melt, trails can get pretty wet and muddy this time of year, so bring a good pair of comfortable and waterproof hiking shoes with you to avoid getting into camp with soaked feet.
Our pick: Merrell Moab Mid 2 Waterproof Hiking Boots (Available in Men's and Women's)
Hot Chocolate
You might be thinking this one's for the kids…yes and no. Your kids will definitely be happy to have a tasty treat of course, but when the sun sets and things get chilly, nothing is going to comfort and keep you warm quite like a tasty cup of hot cocoa. Light to pack, quick and easy to make, you can't go wrong – especially when you add a little Baileys. Wink wink.
Our pick: Carnation Variety Pack of Hot Chocolate
First Aid Kit
This one is not really negotiable regardless of when you're heading camping, but is one of the most important things to bring with you, so we thought we'd give a reminder for good measure. Bring a first aid kit that's suitable for the size of group you're heading out with and the activities you'll be doing. Even if you're not doing anything extreme, don't forget that small accidents can happen anywhere and it's always good to have some bandaids, tweezers and antiseptic wipes handy. Safety first!
For RV rental visit RVTravelCentral.