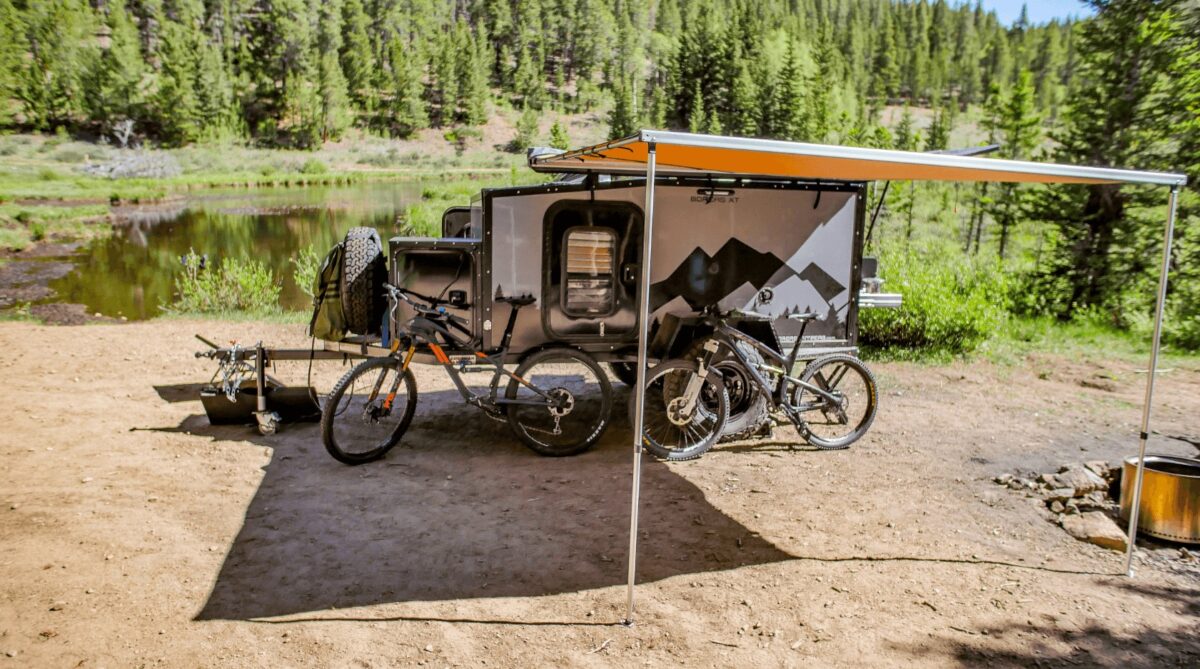 Camping in an off road camper trailer
Have you ever thought about renting an off road camper trailer? Maybe you've seen the campers with bigger tires and more clearance, heading towards a dirt path. Or looked at pictures of campers in a remote spot with no one else around, surrounded by glorious nature. Seems fun, right? 
Well, it is! And here's why you should try it.
What is an off road camper trailer?
So what makes an off road camper off road? Off road campers are typically smaller and equipped to leave the pavement. Their diminutive stature allows them to navigate tighter trails and not get scraped by tree branches! While upgraded suspension gives them more ground clearance to save the bottom from scraping boulders and undulating terrain. And all-terrain tires let them roll over sharp rocks and roots without popping as a thinner tire would. 
In short, off road campers are built to take take off the grid.
Getting off-grid in a camper
Many of these campers take it the next step to be 'off grid'. If you don't have the hookups and facilities of a typical campground, you will want:
solar panels and batteries to charge up accessories
propane to power your furnace and stove
a water tank to stay hydrated, cook, and wash dishes.
This allows you to be self-supported on remote camping adventures. 
Perks of an off road camper
Fewer crowds
There are many perks of off road campers but the biggest one may be this: having the ability to leave the crowds behind. In a year that brought camping to the forefront of American consciousness, campgrounds are filling up faster than ever. If you're looking for solace and peaceful isolation, having an off road camper lets you get off the beaten path to find it. 
Free camping
Another perk: free camping! There are vast areas of land available for anyone to access. The Bureau of Land Management (BLM) manages much of it out west. Oftentimes, you'll find areas outside your favorite national parks and monuments where dispersed camping (camping outside of an established campground) is allowed, free of charge. Many of these roads are not regularly maintained, so you will want the capabilities of an off road camper.
More independence
Being in a dispersed campsite means no hookups: so no power or running water at your site. You will also probably be a ways from town, so grocery runs will be infrequent. Being self-supported comes with a learning curve, but the end result means you have everything on your camping adventures to support your party for the duration of the trip. Whether that's solar panels for power, jerry cans or tanks for water, and coolers or fridges for keeping perishables at the right temperature, you will get the gear to stay off the grid for extended periods of time, relying on no one but yourself.
Campsites off the beaten path
The best place to take an off road camper is off the beaten path. Some of our favorite dispersed camping sites are in our home base of Colorado.  
18 Rd, Fruita
If you're a mountain biker, you're going to want to check this one out. Once you pass the cattle guard and get on the dirt road, you'll continue about 2 miles. There, you can pull off and take your pick of numerous open areas great for one or multiple campers to stake a claim. You'll be at the base of a wide array of fantastic mountain bike trails with names like PBR (Pumps, Bumps, and Rollers) and Kessel Run. 
CO Rd 315, Buena Vista
If you love waking up with an incredible view of mountains, this is a great spot. Take this road just east of Buena Vista and check out the plethora of sites off the road. There are hiking and biking trails that you can take to get to the Arkansas River and downtown. It's also fun to drive down the dirt road through the Midland Tunnels that once served the railroad.  
Boreas Pass, Breckenridge
We're biased since our company started here, but the views of the mountains are great! There's access to both skiing and bike trails, and if you time it right (late September or early October) you'll find yourself in an aspen paradise. 
Buffalo Pass, Steamboat
You may be sensing a theme at this point because this mountain pass also has access to a stellar mountain bike trail network. Flash of Gold is a magical trail when the aspens are at their prime, and hikes at the top of the pass will take you to beautiful alpine lakes. 
Rent an off road camper on RV Travel Central! 
At Boreas Campers, we design and build off road camper trailers in Denver, Colorado. Our XT model has 19" of ground clearance, Cruisemaster independent suspension (so no axel to get damaged on rocks), and BF Goodrich all-terrain tires. Pair that with the 100w of solar, 11lb of propane, 30 gallons of water, and a complete kitchen, and you are ready for some serious off-road adventures! 
Boreas Camper owners across the U.S. rent their off road campers on RV Travel Central.
Here are a few listings:
Rent an off road camper near you and head to a dispersed campsite this summer! 
This post was written by Maggie Reichel at Boreas Campers.