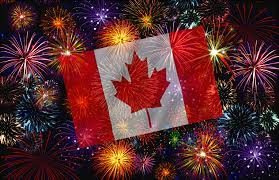 5 Reasons to rent an RV for Canada Day
July 1 feels like the official kick-off to summer. What better way to celebrate than to rent an RV for Canada Day and head to your fave spot?
Here are five reasons why celebrating July 1st in a camper is the best:
1. It's less expensive than hotels
Staying in hotels is pricey. They often jack up nightly charges around holidays, making it an even more un-affordable way to celebrate. Staying in an RV costs about 30% of what you would spend on staying in a hotel so you can ball out (even on a budget).
2. You can celebrate in the most vibrant parts of Canada
If there was ever a time to celebrate the awesomeness of this country, Canada Day is it. Why confine yourself to any one place when you could rent an RV and take your celebration cross-country? For more proof, check out why it's best to travel around Canada in an RV.
3. Avoid crazy-busy metro areas
Millions of people flock to festivals and fireworks displays in cities. Rent an RV and tailgate in style. Head out of town to avoid the traffic and crowds of sweaty strangers. Put on your own personal fireworks display, or just gaze at the natural light show in the starry night sky.
4. Stay where you celebrate
When you camp in an RV, you bring the party wherever you go. There's no need to worry about catching a cab or booking a room–you've always got a crash pad just steps from the action. Not only is this your safest bet, but it's insanely convenient. You'll never want to celebrate any other way.
5. You can bring your whole crew
What good is a party without your people? Grab these five Canadian road trip essentials and rally the troops for a Canada Day RV trip. Make epic memories together that will last a lifetime.
Rent an RV for Canada Day from RV Travel Central and celebrate our country in the best way possible.