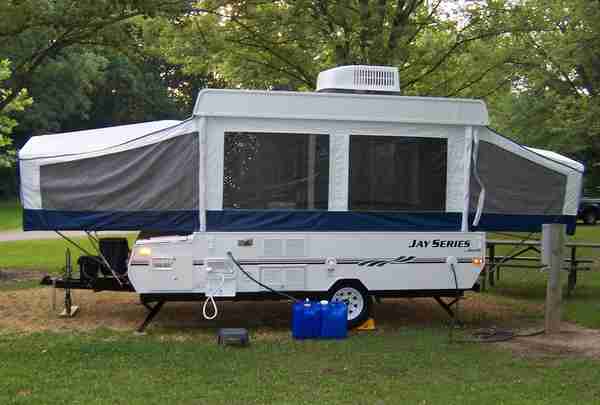 5 Questions to Ask Yourself Before You Buy a Travel Trailer
Are you considering buying a new travel trailer? RVTravelCentral has five important factors to consider before making your big purchase. There are few experiences more exciting and stressful at the same time than buying a travel trailer. Other than buying a home, buying an RV may be one of the most expensive financial transactions most of us will ever partake in. If you are faced with the decision to buy or upgrade your travel trailer, here are the most important questions you need to ask yourself to make sure you are making the right decision.
What Type of Travel Trailer Do You Want?
While our grandparents and parents may not have had many choices in choosing a travel trailer, we can choose between several types such as, a folding trailer, expandable, fifth wheel, toy hauler, and a conventional trailer. So, which one is right for you? Ask yourself the following questions; How will you use it? Where will you use it? When will you use it? What size do you want? What features do you want? While a big travel trailer like a fifth wheel or a toy hauler might be more fun, maybe a smaller trailer like an extra light expandable may be more practical. However, if you have a larger truck that can haul around a larger trailer or have a big family or perhaps you want to park the trailer at an RV resort, an oversized trailer might make the most sense.
Do You Want a New Trailer or a Used Trailer?
Next you have to decide between a new trailer and a used trailer. Both have pros and cons. The best part of buying a new trailer is that you are the very first owner. There is nothing quite like a new travel trailer, and you know that if you are the first owner and you maintain and care for the trailer, it will last a very long time. However, you pay a big premium for that luxury. New trailers can be expensive and some lose value quickly in the first few years you own them. Used trailers, on the other hand, have already taken their biggest loss in value so you can buy one for a lot less than a comparable new travel trailer. Even a recent model that is two to four years old will be a big savings over a brand new trailer. The downside of used models, however, is that you are not the first owner. They may have been in accidents, had interior damage, and maybe have not been kept up in the condition you would have kept it in yourself. For those damages and risks, you can save big.
How Well Do You Know The Trailer?
When you have picked out your favorite options, you can always go to the dealership and do another walk-around. I always dislike dealers who do not offer to let you try the trailer before you buy it program. Does a few hrs at the dealership really tell you everything you need to know to make a $10,000, $20,000, or even bigger decision? Probably not. One great way to get a better feel for the travel trailer is with renting a similar unit. You can rent a travel trailer for a weekend with RVTravelCentral and get a much better comfort level for what you like and don't like about the trailer and or the RV lifestyle. And, if you aren't sure on size or type, you can test them each out for a few days before making the major financial commitment.
Will You Get a Warranty?
Whether the trailer is brand new or used, it is important to protect yourself if the travel trailer breaks down in the future. New trailers generally come with a manufacturer's warranty. These warranties commonly protect you from manufacturer's defects until you have had the travel trailer for a certain number of years. For used trailers, depending on the trailer you may still be covered by the original manufacturer's warranty. If you buy from a dealership, you will most likely get a used trailer limited warranty. If you buy from another owner, you likely won't have a warranty at all. You want to make sure a mechanic checks the trailer if you will not get a warranty, but if you do have a warranty you won't have to worry as much about maintenance issues that may arise.
How Will You Pay For It?
When everything else is set and it comes time to buy your travel trailer, you have to figure out how to pay for it. The best option, of course, is to pay all in cash. Paying with cash is the cheapest way to buy the trailer, but it may not be possible for everyone. If you need to get a loan, be sure to check around for the best interest rates and put down a large down payment to lower your monthly payments and interest cost over the life of the loan. Once you take possession of the trailer, you can use RVTravelCentral as a method to turn your trailer into a profit.
Our average members make hundreds of dollars each month to help offset the cost of ownership, and put extra spending money in their pocket.
If you are a new travel trailer owner or have a trusted used trailer, check out how easy it is to rent out your unit with RVTravelCentral.
You can list your trailer for free and it only takes a few minutes!
Happy Camping