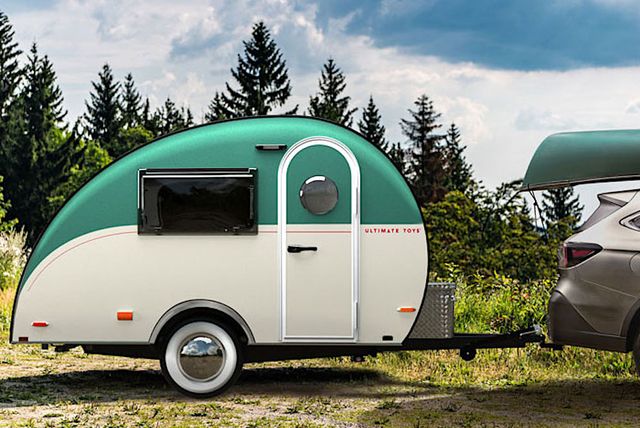 5 Campy Breakie Ideas
Tonton Eggs Benny
1. Eggs Benny with Toutons or Bannock
Want to look seriously gourmet out in the wilderness!? Eggs Benny will always do the trick, but eggs benny on camp fried bread dough or homemade bannock will certainly impress. If you love to cook and please a crowd, frying up eggs over easy, sizzling Canadian back bacon and camp-cooked bread is a sure "fire" way to look like a camp cookstar. Nothing like a plate dripping in Hollandaise sauce to start the lazy, hazy day of "foresting." Check out this eggs benny recipe from Rock Recipes (toutons are a traditional Newfoundland delight). Serve with side of baked beans in molasses for the ultimate forest feed.
Hot Tip: Premake the Hollandaise at home, pack it up and simply heat up over the fire when ready to serve breakfast! Pre-make bannock or bread dough and portion using parchment paper between portions for easy campfire frying.
2. Pancakes & Fixings
Pancakes and camping seem to go hand in hand. From RV camping with a kitchen to tent camping with a firepit, pancakes are easy to whip up and dress up! WE love our pancakes with a side of fried sausage and Canadian Maple Syrup and we also love the convenience of a great pancake mix. Lannie Rae Gourmet offers up flavour packed, gourmet pancake and waffle mixes that are easy to take on the road or in a backpack.  Serve with a side of orange slices or top with fresh berries!
Hot Tip: premix the batter and store in a squeeze bottle. Keep cold / refrigerated until ready to use. This makes for easy clean up while out camping. You can also premake a delicious syrup to simply heat up over the fire too. Check out this recipe for Vanilla Bean Buttermilk Syrup.
3. Grumpies be Gone Granola
Oh Granola! Healthy, hearty and so easy to make, pack and store. It seems to be a staple on any camping pack list for a fast and furious breakie on the run or…..hike.
Whip up this banana bread inspired granola from the Minimalist Baker and serve it up with yogurt, sliced bananas and a dash of toasted coconut.  Want to keep it vegan!? Serve with vanilla coconut almond milk instead.
4. Warm your toes, stick to your bones Oatmeal
Those brisk camping mornings got nothing on a good dose of cooked from scratch oatmeal. This recipe for Carrot Cake Oatmeal from Life Made Sweeter is so easy, delicious AND fully loaded to keep you going for hours. Drench in milk and add a dash of brown sugar.
Hot tip: pre-pack the spices and the toppings for minimal onsite prep and clean up.
Mountain Man Breakie
5. The Mountain Man Skillet
The last day of camping (sad face) is the perfect day to use up the last of the groceries. A skillet breakfast is a great way to throw it all into the pot so to speak! Our friends over at 50 Campfires has this recipe. WE love to work off of. A skillet breakie can be an anything goes type of thing – just plan on having eggs. Think quiche over a campfire!
To book an RVs for rent or list your RV for rent Visit RVTravelCentral
Hot tip: WE mean it – anything really goes – leftover bacon, sausage, hamburger, peppers, shredded carrots – it is a mountain of a meal!
We hope you try and enjoy these ideas! Don't forget to add camp coffee!
Please share any thoughts or questions and even photos if you have them #happinessandhighfives – WE would love to know what you cook up!