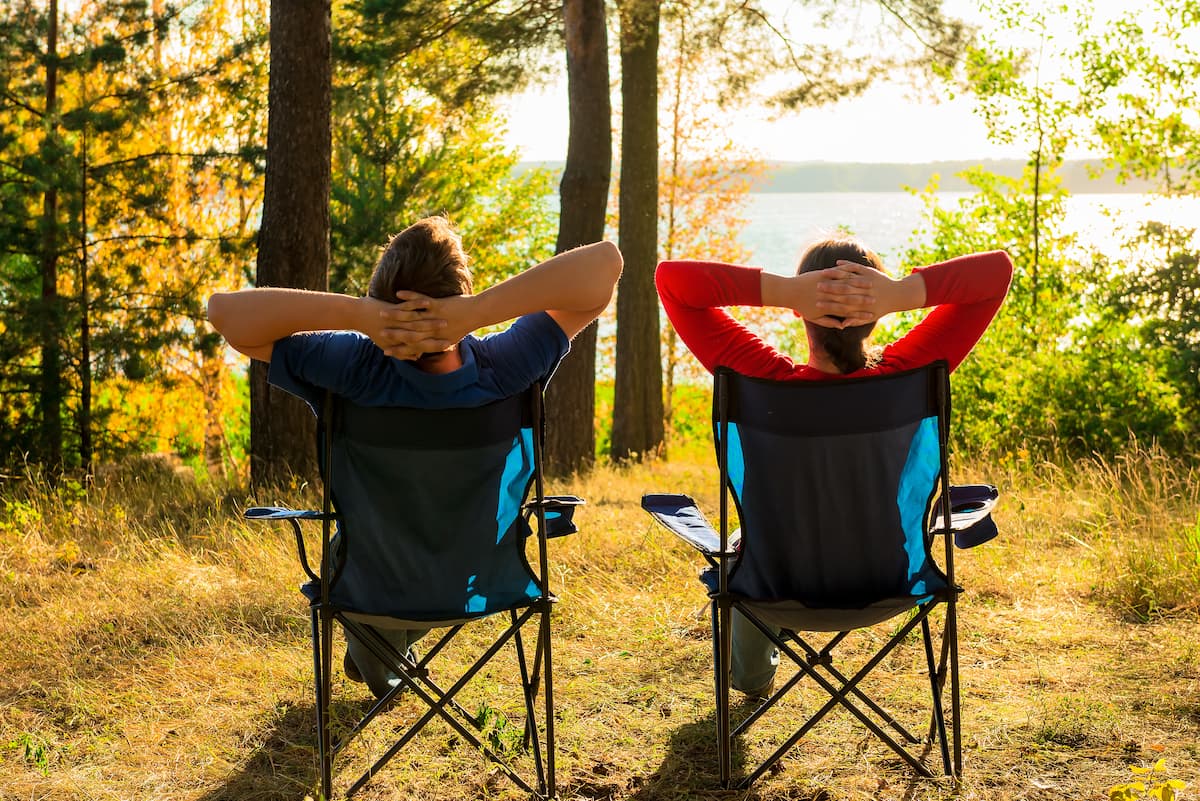 30 Simple Camping Hacks I Wish I Knew Earlier
There's nothing better than coming across a new camping hack that makes your life easier.
Unfortunately, many of the tips found online require you to purchase unnecessary items or end up causing you more harm than good. So, if you are trying to heat your camper with candles, stop. You have a better chance of burning your RV down than heating it.
In this list, we asked real RVers to share their best hacks to help you make the most of your time outdoors.
Indoor RV hacks
E-Cloth for chemical-free cleaning
Use E-Cloth microfiber cloths to clean surfaces without harsh chemicals. E-cloths clean everything from the mirrors to the floor, and since E-Cloths work with only water, you won't have to worry about scratching delicate RV surfaces.
Keep warm with a fleece-covered water bottle
Use a fleece-covered hot water bottle at your feet when you go to sleep to keep your feet warm when you camp off the grid. Fleece-covered hot water bottles are soft to the touch and help keep the water inside the bottle hotter for longer. Your cold toes will thank you for this brilliant camping hack.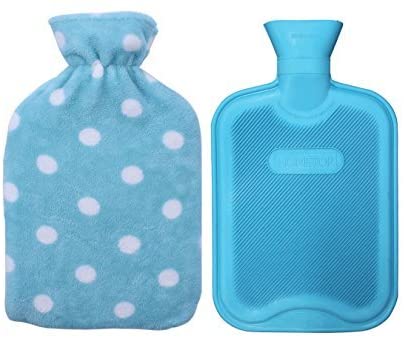 Museum putty for counter storage
Use museum putty to keep items, like a coffee pot, on top of the counter while driving. Museum putty won't destroy the counters or your breakables. Leaving items on the counter helps you save space and access the things you use the most.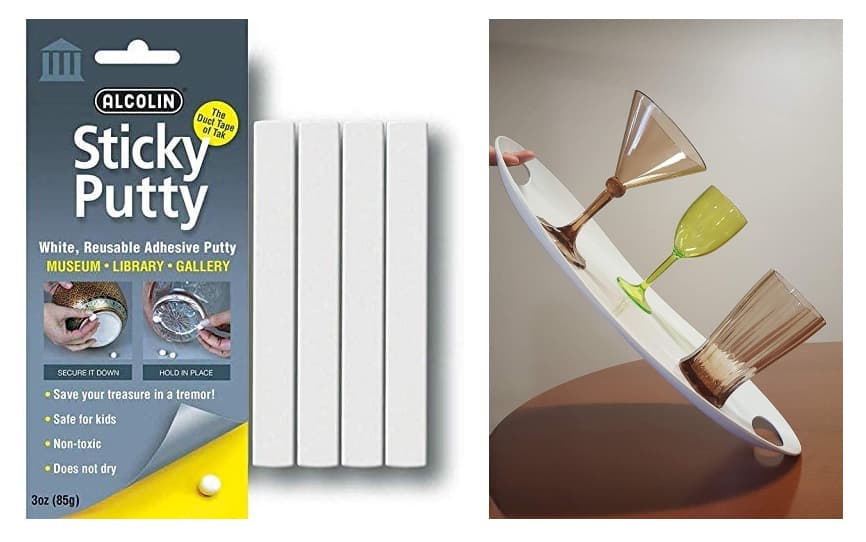 Kitchen hacks
Frozen 2-liter bottles as ice
Keep your empty 2-liter soda bottles and reuse them on your next camping trip. A few days before you pack your RV, clean the bottles, fill them with water, and freeze. When you are ready to hit the road, use the frozen bottles inside your cooler or RV refrigerator. The large bottles help cool the spaces faster, and the frozen bottles last longer than ice cubes. When the water melts, you'll have clean drinking water.
Bungee cords camping hack
Bungee cords are the duct tape of the elastic world; use them for just about anything. Bungee cords secure items in place and can function as the ultimate camping hack. Use a bungee cord to hold a camper screen door open for fresh air or hang a paper towel roll in the kitchen. If you have paper towels that unravel while you travel, wrap a second bungee cord around your paper towel roll to keep it in place.
RVer insider tip — avoid a mess in your kitchen by choosing an RV-friendly paper towel, like Viva® Signature Cloth. These rolls don't unravel until you are ready to use them.
Reuse a coffee creamer container for egg storage
Want to avoid cracked eggs? Use an empty coffee creamer container to store your eggs. Whether you have an RV refrigerator or an insulated cooler, broken eggs happen. This camping hack helps you in two ways because it's cooking prep and egg storage in one. Crack your eggs at home, and store the cracked eggs inside the empty creamer container. When you get to the campground and want to make eggs, pour your eggs into the frying pan. Voila! Instant scrambled eggs.
Shower and bathroom hacks
Rubber floor tiles as an outdoor shower floor
Outdoor showers are great for rinsing off while you're camping near the beach or sand dunes. But have you ever tried to clean your wet feet while standing on sand or dirt? It didn't work out too well, did it? Rubber interlocking floor tiles make great outdoor shower floors, and they double as a non-slip surface for your indoor RV shower, too.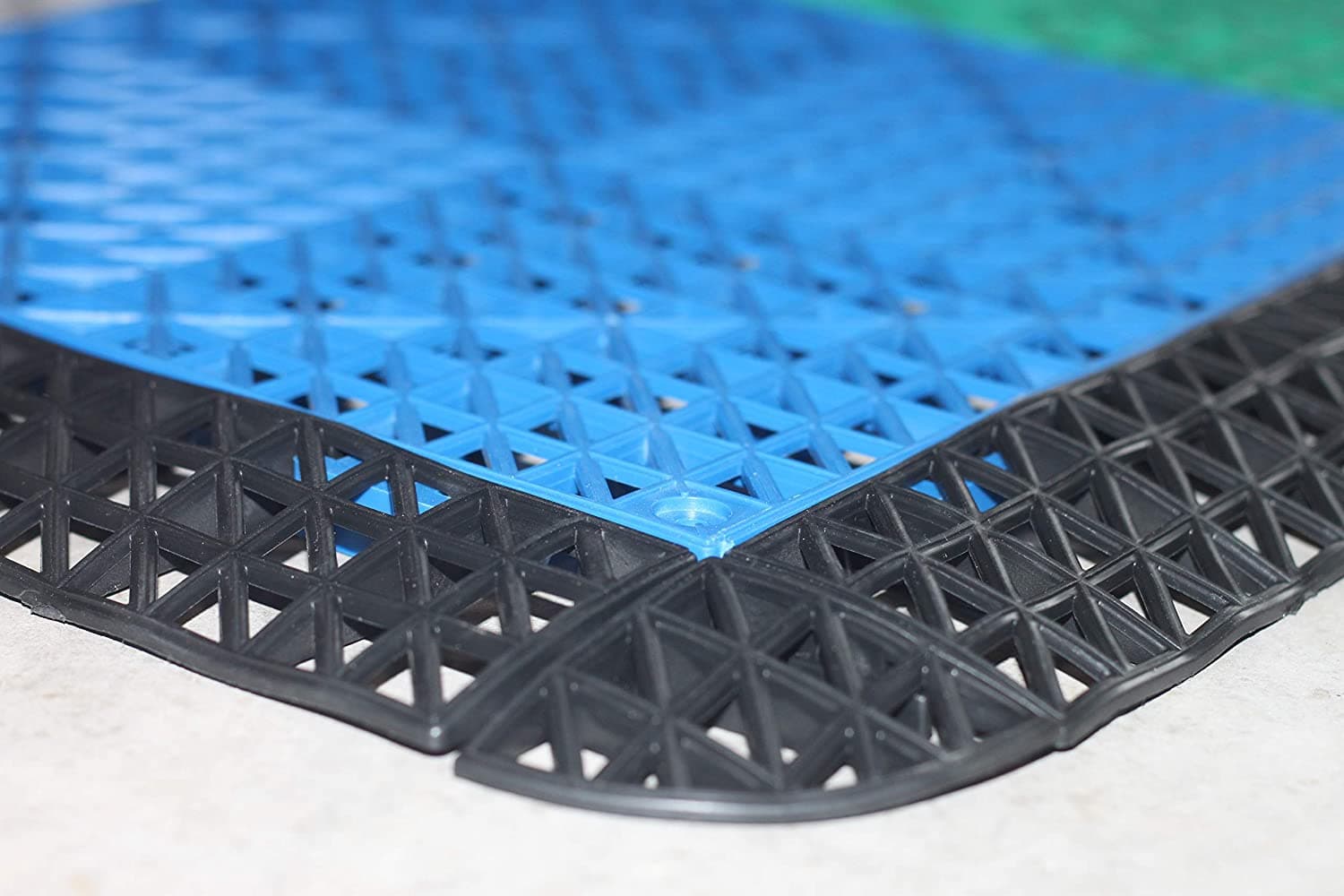 Soap savers keep soap within reach
Soap on a rope has made a comeback in the camping world. Soap savers work well inside and outside the RV. Hang a soap saver from your outdoor handwashing station or outdoor shower to keep your soap off dirty surfaces. Soap savers even work well in RV and campground showers because what happy camper likes soggy soap?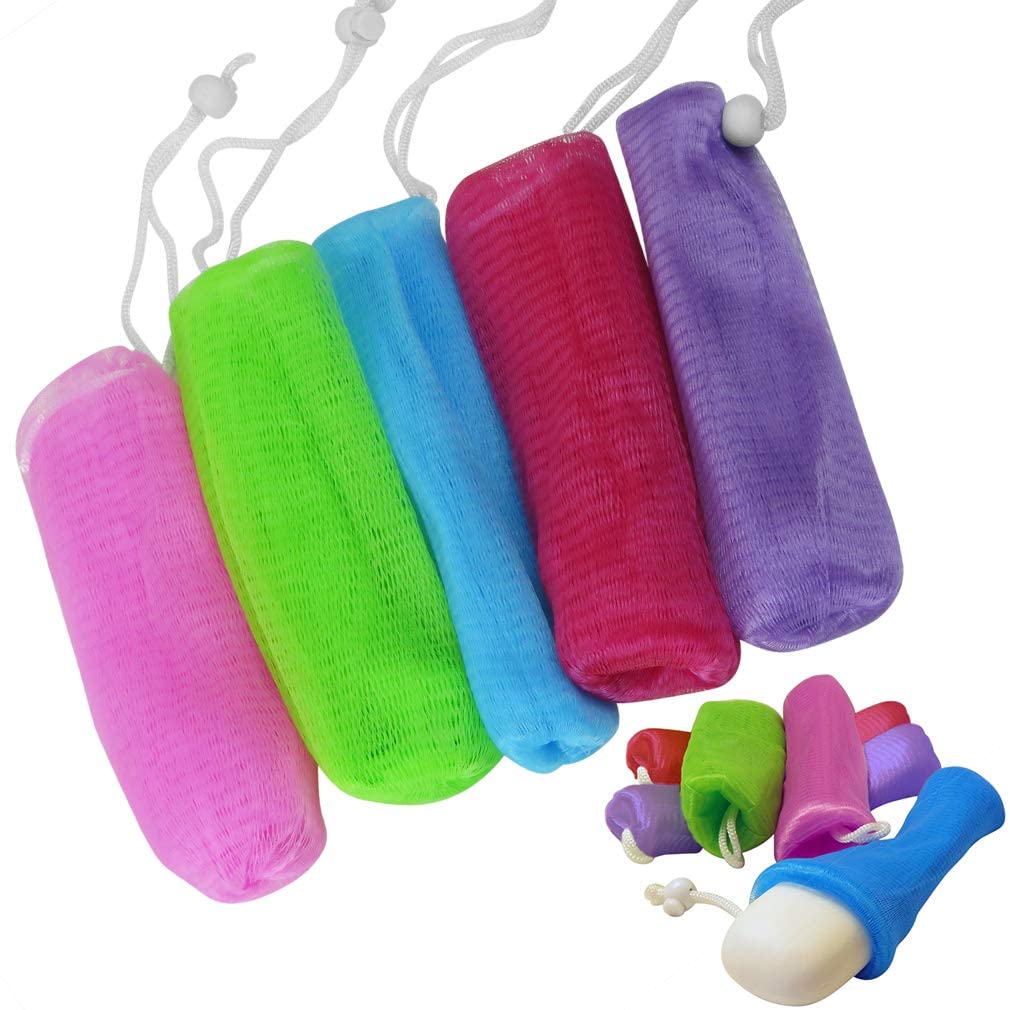 Magnetic strips for bathroom storage
Hanging magnetic strips in the bathroom area can help eliminate lost bobby pins, nail clippers, razors, scissors, and tweezers. Simply mount the magnetic strip inside a bathroom cabinet or above the sink. Your days of digging through your toiletry bag are over!
Save space with hanging microfiber bath towels
Have you ever wondered where you should hang your wet towel after taking a shower inside of an RV? Since RV bathrooms don't always have space for large towel racks, RVers have to find alternative methods for hanging more than one wet towel. Fast-drying microfiber bath towels with hanging loops work two ways. Campers can use the loops to hang multiple towels on one rack, and because the towels are quick-dry, you won't have to worry about mildewing towels that never dry.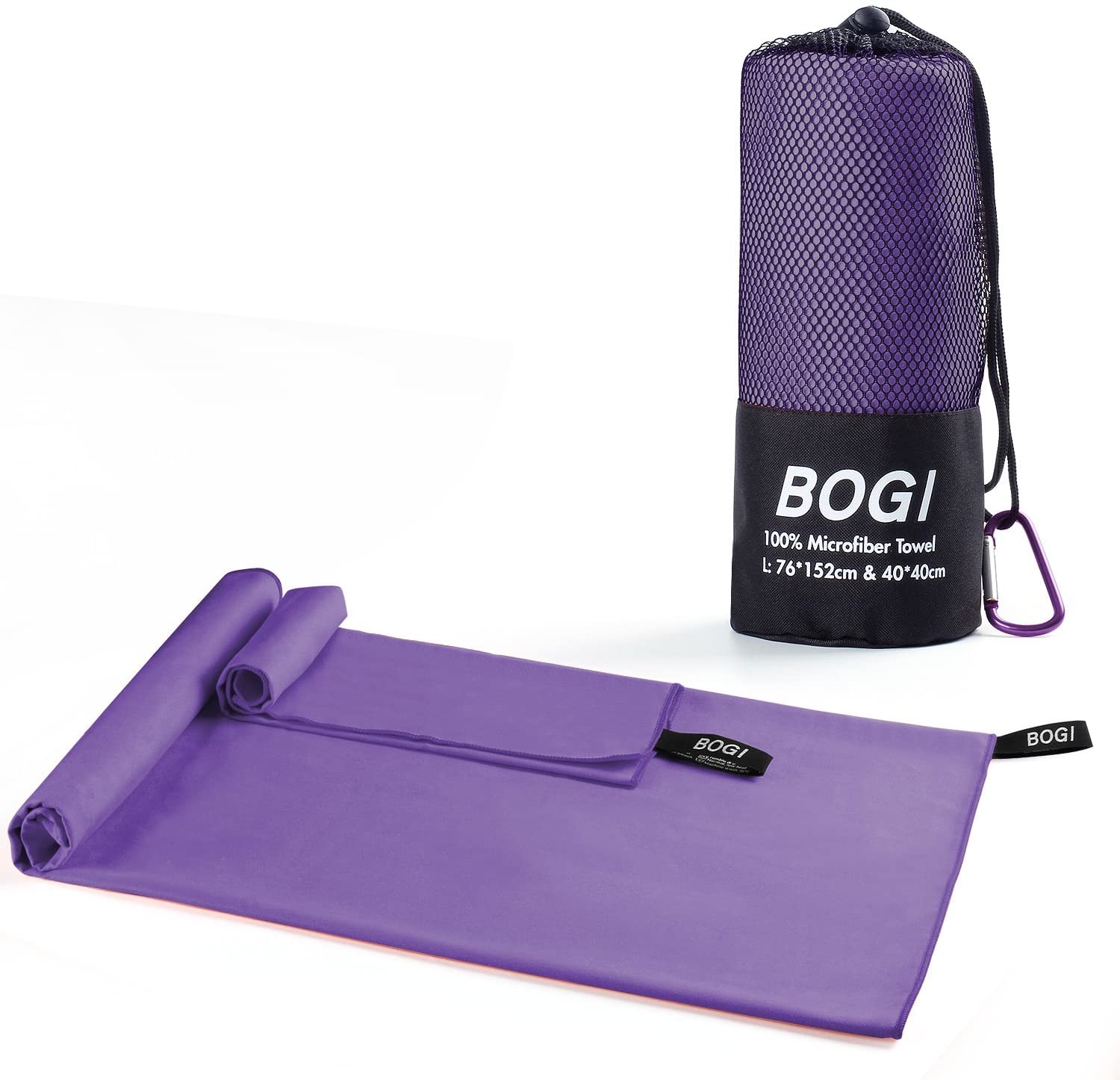 Outdoor camping hacks
Use hot water to check your propane levels
You don't need overpriced and unreliable monitors to check the propane levels in your tanks. This camping hack uses hot water to measure your propane levels.
Clean dirty feet using a dishwashing tub
Keeping dirt out of your RV might seem like an uphill battle. This simple and inexpensive trick will keep your floors cleaner for longer. Buy a dishwashing tub and fill it with a little bit of water. Keep the tub next to the door, and either take your sandals off and dunk your feet or lightly skim the bottom of each shoe in the water.
Hang command hooks outside
Command hooks are an RVer's best friend because they provide a damage-free way to hang items on your RV. Curious how to dry your feet off after using the dishwashing tub hack above? Mount a few command hooks next to your door and hang a quick-drying and sand-resistant towel on the hook.
Illuminate your campsite with a DIY bucket light
Want a cute and practical item to decorate your campground and illuminate it at night? This DIY light-up campground bucket is easy to make. The bucket can serve as a beacon at night and double as outdoor storage for flip-flops, outdoor games, and pet items.
Dromedary bags for water storage
Use dromedary bags instead of large plastic jugs when you need to bring extra water with you. Dromedary bags take up less space than water jugs, and they help reduce the one-time use of plastic water containers. Most dromedary bags have a secret spout hidden in the cap, so it's easy to lift the bag and add water to your freshwater tanks.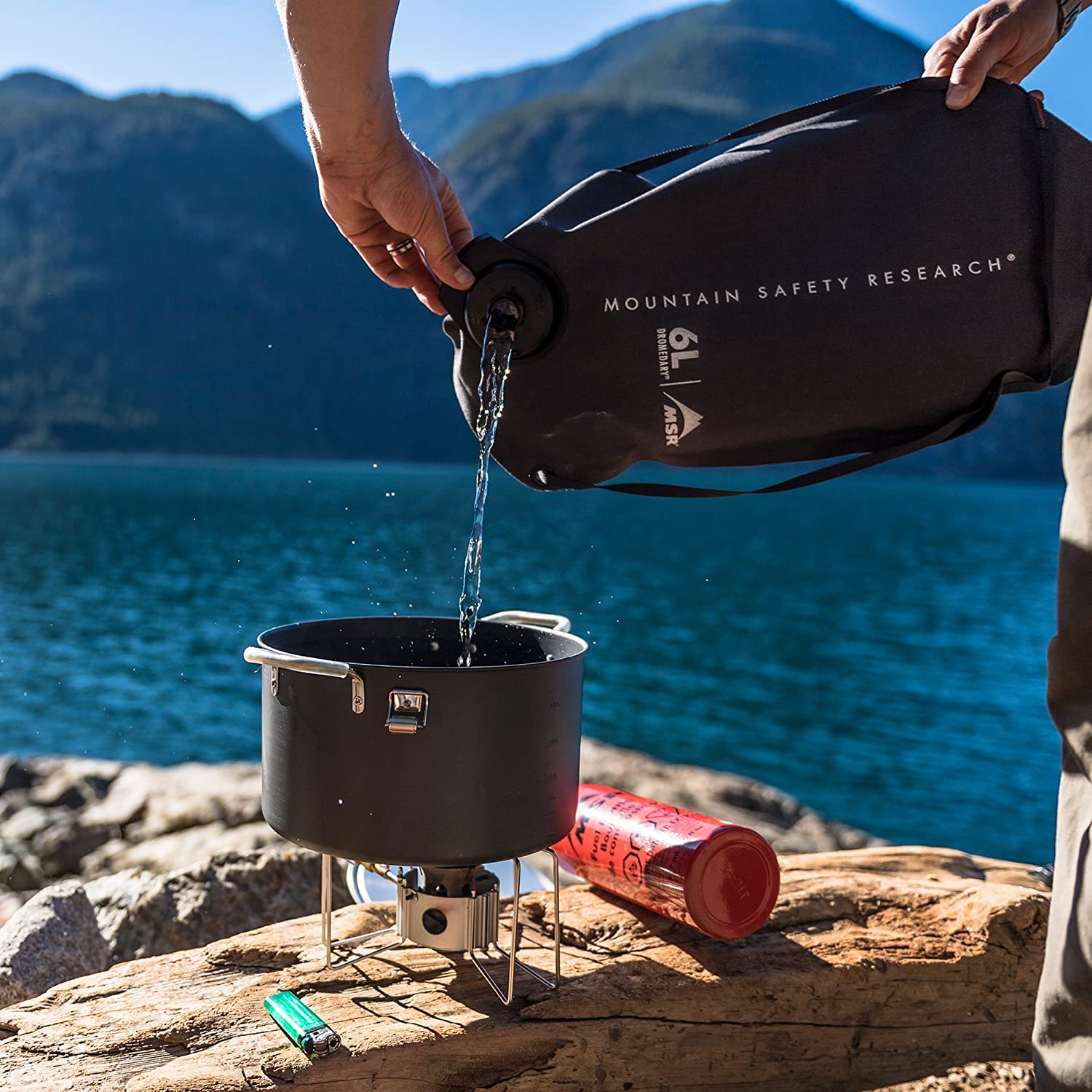 Pest and critter camping hacks
A tube sock stuffed with steel wool to keep mice out
Got mice? RVers who store their RV or boondock in the desert will love this simple RV hack. Wrap a tube sock stuffed with steel wool around any opening or hole to prevent mice from coming inside your RV. If you use steel wool in a spot where it might rust or be close to a heat source, use copper wool instead.
Cotton balls and essential oil to prevent mice
It's not possible to stuff every opening in your RV with steel or copper wool. Tuck cotton balls or cotton pads sprinkled with peppermint essential oil in your drawers and cabinets. The peppermint not only helps deter mice but also makes your camper smell good.
Motion-sensor lights to deter critters
Critters like skunks and raccoons don't like to be in the spotlight. Some say snakes and other creepy crawlies shy away from light, too. To keep the critters at bay, attach magnetic motion-sensor lights underneath your RV when you're parked. At night the lights will activate and send the pests on their way.
DIY bug repellent
Make a natural DIY bug repellent to repel bugs at the campground. In a small spray bottle, combine a few simple ingredients like lavender, rosemary, and peppermint essential oil with natural witch hazel, distilled water, and glycerin. Just shake and spray to help keep the bugs at bay.
Campsite hacks
Toilet paper tubes as a campfire starter
Use ingredients from home to make a fast and easy DIY campfire starter. Fill the inside of an empty cardboard toilet paper tube with dryer lint and wrap with wax paper. When you are ready to start your campfire, use a match or lighter to light one end, and place it near your wood.
Corn chips as fire kindling
Chip lovers rejoice! When you are camping, that bag of corn chips can be more than just a tasty snack. The high-fat content in corn chips creates a slow and steady burn. In a pinch, the corn chips will help ignite your fire.
Cotton pads dipped in wax for firestarters
Campers who prefer to upcycle the items they have at home might opt for a good-smelling firestarter like a cotton pad dipped in wax. When looking for the best wax, opt for melted paraffin or candle wax. The cotton pad dipped in wax works similarly to the dryer link and corn chip kindling.
Other RV hacks
Pool noodles for safety
Using pool noodles helps keep you safe from sharp corners or hard-to-see tent or awning tie downs. Cut a pool noodle in half and place it around the sharp edges of your slides to keep from bonking your head while you are accessing the storage bays. A pool noodle also works around awning tie downs. Since light-colored rope isn't easy to see, the pool noodle hack will help you avoid a potentially dangerous situation.
A shower cap to stop sensitive sensors
Stop that unnecessary beep with a shower cap! Propane gas alarms are notoriously sensitive. Your bathroom products like lotions and aerosol sprays can set off the alarm and wake the whole campground. With this hack, you won't have to worry about unnecessarily tripping your alarm whenever you want to use dry shampoo. Just cover up your RV propane gas alarm with a shower cap and spray those dirty roots. Don't forget to take the shower cap off immediately. All sensors and alarms are an essential safety feature, and you want to keep them working at all times.
Binder clip RV hack
All RVers should have binder clips onboard their RV. Binder clips make excellent tie downs and keep your chips fresher than traditional chip clips. If you like outdoor lighting, binder clips work better than expensive mounting tape or special light hangers. Use a binder clip to hang your lights from an awning or a metal keder track. When the wind picks up, your lights will stay where you intended.
USB lights for off-the-grid lighting
USB or battery-operated string lights will create just the right amount of lighting inside and outside your RV. When camping off-the-grid, opt to use string lights or fairy lights. You will use less battery power and enjoy the ambiance of the tiny, sparkling lights.
Glow-in-the-dark tape for safe surfaces
Use glow-in-the-dark-tape for a universal camping hack. Apply strips of glow-in-the-dark tape to the surfaces you need to see in the dark, like RV steps and stairs. The glow-in-the-dark tape also works well attached to trailer forks, hitches, handles, and uneven RV surfaces.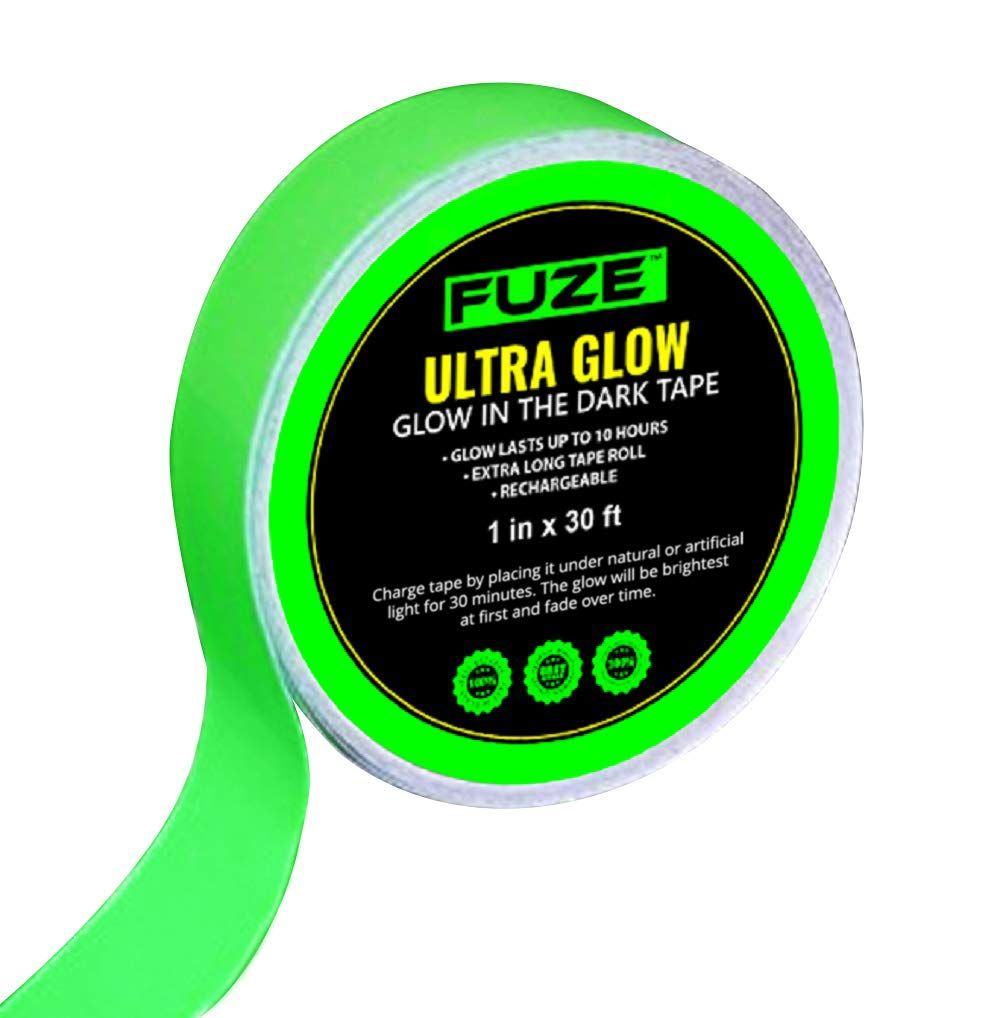 Adhesive mounting strips for damage-free hanging
All RVers should have a variety pack of adhesive mounting strips kept inside their travel toolbox. Adhesive mounting strips provide a damage-free and inexpensive way to hang everything from pictures to small shelves inside an RV. Adhesive Velcro mounting strips aren't just for hanging, either. Do you have a cabinet or sliding drawer that won't stay closed during travel? Mount a piece of Velcro over the front to keep things closed during transit and ready to use once you are parked.
Pressure rods in cupboards and refrigerators
Use pressure curtain rods in your cupboards, refrigerators, and other open spaces to help keep your items where you want them. No one wants to have their soda cans fall out and explode after a long day of driving, and pressure-mounted curtain rods easily adjust to different spaces to help keep your things where they belong.
Upcycle household cleaner containers
Before tossing your empty household cleaner containers, consider upcycling them. Antibacterial wipe containers work well as plastic bag holders, and the small size is easy to tuck inside cabinets or tiny RV spaces. Your plastic grocery sacks make excellent RV trash bags and come in handy if you have a pet to pick up after.
Become a hacky camper
Whether you are a newbie RVer or a road warrior, there is no need to complicate your camping. Becoming a hacky camper will help make RVing even more simple than it already is.
Find these tips interesting and helpful? Share them with your friends! Remember that everyone can benefit from an RV EZY trip.
Are you an RV owner interested in renting out your RV? Click here to learn more.
Looking to rent an RV for your upcoming trip? Check out RV Travel Central's top-rated RVs.