Experience the Calmness Of Regina - RV Rentals Regina
Saskatchewan's capital city is a beautiful lakefront location with a variety of historical, cultural, and political treasures.
Formerly named "Pile of Bones" because it was home to a large number of buffalo bones, the city of Regina has developed into a cultural hotspot known for its museums, art galleries, and a stunning man-made lake.
Saskatchewan doesn't have much to offer that's exciting. No mountains, no crystal clear lakes, no metropolises. But what it has to offer it packs charmingly into Regina. The province is modest and sympathetic.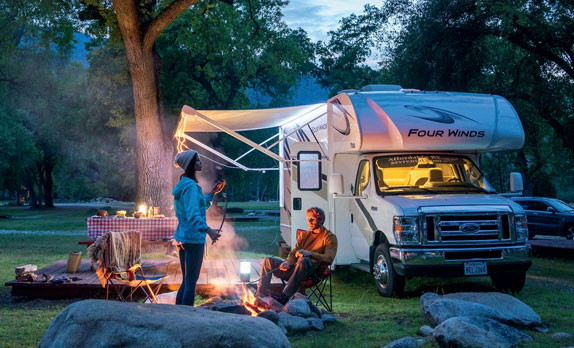 And this endless expanse shows its charm when you while away the time driving with the numerous white cloud animals, when the most impressive starry sky stretches out in front of you at night or when you find the end of the rainbow.
Guess what? You can witness all of this while on-road with RV rentals in Regina, SK. Go at your own pace and enjoy the serene and calm atmosphere that this city offers. Wondering where to book an RV in Regina? Turn to RV Travel Central for a wide range of RVs rentals in Regina and thru out Canada.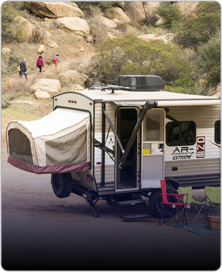 How Regina Travel Can Make Your Day
Regina, the provincial capital, fits into the picture of a city that breathes tranquility. Not too small, not too big. Not too loud, but not too quiet either. On the weekend, the residents gather at the lake, walk around or treat themselves to a barbecue.
If you're travelling across Canada, the Trans-Canada Highway will take you via Regina. Your vehicle's grill will be covered with brightly coloured bugs as you take a road trip across this huge countryside.
Driving through in the summertime is preferable, but the weather may change quickly. On an average day of travelling in Regina, you'll switch between the heat and the A/C many times. If you are not, it's best to rent an RV in Regina to take it all in that the city delivers to you.
What's More? You can book the best RV rentals in Regina and have your RV delivered to your campground of choice with RV Travel Central so you don't have to compromise on your travel.
Where to Start
In the city of Regina, there are many places that you can visit for fun, such as:
Wascana Park
Wascana Centre is the hub of the city's natural environment. Take a walk or jog around Wascana Lake's gorgeous wetlands and grasslands before breakfast to join the locals who are always on the go.
This is a must-see if you're just in town for a few days in Regina. Wascana Park, located in the city's core, is among North America's biggest urban parks. It's a gorgeous area year-round, whether you're cross-country skiing along the trails in the clear winter weather, looking for birds or newborn jackrabbits in the springtime, cycling around the lakeside in the summer, or simply taking in the autumn colours.
Did you know that the Queen City Ex-Fair, Canada Day Fireworks, and the Waskimo Winter Festival are held at Wascana Park? Canoe rentals are available, so you list your RV in Regina campground and enjoy the canoe ride.
Saskatchewan Science Centre
You and your kids will learn a lot about the workings of nature when you take them to the Saskatchewan Science Centre. The Centre, which is housed in a former SaskPower station, will mark its 30th anniversary in 2019. Additionally, there are more than 130 hands-on exhibitions that change regularly and a Makerspace where visitors can create their own creations, as well as a variety of engaging summer and winter programmes for all ages.
You can regularly find staff from the Science Centre showing up in other areas, offering information to audiences who are not always able to attend the Science Centre itself. Among the few IMAX theatres in Canada that still uses film projectors to play movies on a 52-inch high screen is located in the very same building. It generally presents the latest movies and documentaries.
The Royal Saskatchewan Museum
Explore the largest anthropological exhibit in Saskatchewan at the Royal Saskatchewan Museum.
Royal Saskatchewan Museum is situated at the summit of Wascana Park and is a wonderful spot to take your kids. There is a Tyrannosaurus skeleton called Scotty, which is the world's biggest and most complete T-rex exhibit. It was in the Frenchmen River Valley in Saskatchewan when Scotty (now identified as a female) was first discovered in 1991. Two-story Tyrannosaurus exhibit room has been added to the museum, and the earth shakes uncomfortably when you push the button for her roar.
Enjoy the Local (and Fusion) Cuisine
Take your luxury RV rentals in Regina around the city to find some of the best eateries.
Restaurants are a big part of the culture of Regina, and the locals take great pleasure in their culinary offerings. Saskatchewan's legacy of immigration is also seen in the cuisine.
Perogies and cabbage rolls, which the initial Ukrainian immigrants brought with them, can be found all around the city today.
The Caraway Grill (Indian), Orange Izakaya Fusion Cafe (Korean), Afghan Cuisine Family Restaurant (Afghan), Chef Malcolm's British Pie Shop, and Malinche (Mexican food truck), are some of the greatest places to eat. At the Farmers' Market (twice weekly throughout the summer) or the Fresh and Local market shop in the Warehouse District, foodies may find a wide variety of local foods.
Try "pitchfork fondue" or other fantastic food trucks that can be found all around the city for lunch. On Saturdays, the farmers market offers fresh food for a picnic, which you may enjoy in the quiet and scented Floral Conservatory.
If you are on a budget, you can get budget RV rentals in Regina from RV Travel Central.
RV Campgrounds and Parks in Regina
Here are some of the best RV parks and campgrounds in Regina:
Kings Acres Campground: Provides easy access to the convenience store nearby. The owners are very friendly. No extra charge for guests who want to have dinner.
Indian Head Campground: Everything you could ever want in an RV park is here! There is a heated pool, a convenience store, and plenty of room for Big Rigs! Bathrooms to die for! Massive playroom for children's use. Spend the night or walk around. Convenient exit off the TransCanada Highway.
Buffalo Lookout RV Park and Camping: The park was easily accessible by highway, making it convenient to go there. The Wi-Fi was terrible.
Comfort Plus Campground: Friendly and helpful owner. Within walking distance to a nearby museum.
Frequently Asked Questions (FAQs)
What kind of RV is most comfortable to drive?
Class B RV rentals are the comfortable ones, to drive. This is because they drive like a huge van with a soft ride. The driver will find it easier to handle as the handling of class B RVs are fairly responsive and relatively simple to gain a grip of.
What type of RV is safer to drive?
Among all the RV rentals, Class B vehicles are considered the safest option. This is because of its standard stability control and front airbags present in the vans. Class B vans can indeed be installed with full seat belts for up to seven passengers. Moreover, the front and side airbags offer the utmost safety to the passengers and make them safe.
What are the advantages and disadvantages you face when you

rent your RV in Regina

?
When you rent RV online in Regina, you will have to face some pros and cons. Some of the beneficial advantages are as follows:
RV rentals lower the cost of your trip

Taking a road trip to see more fascinating attractions

Helps in sidestepping packing and unpacking and allows you to spend more time with your family

Fewer germs and a lower risk of sickness
Some disadvantages are:
There are numerous driving and parking restrictions

Difficulties in directing towards the city streets
Is it safe to drive an RV with a propane tank on?
The majority of RV owners use propane when driving. This is a highly safe way, and it also allows you to run your motorhome's air conditioner. RV owners employ propane to fuel their heat, electricity, and other appliances. It's a must-have for anyone who spends a lot of time in their RV or travel trailer on the trip.
Is it necessary for me to get a special license in order to drive an RV?
RVs often only require a standard driver's license. It's usually a good idea to double-check with the areas you'll be visiting. To rent, you must have a valid driver's license for at least a year and be over the age of 25.
Are pet-friendly RV rentals available in Regina?
Many RV owners allow dogs to stay with them. You may look for pet-friendly RVs or look at specific listings and see if there are any additional costs or deposits for bringing your pets.
How long can an RV travel without being charged?
When the RV is not connected, it must rely on batteries to provide power. A 12v battery will last 2-3 days under regular use settings, such as lighting, propane refrigerator, phone charging, and water pump.
Is it safe to drive with the RV fridge turned on?
Yes, to put it more simply. While driving, an RV fridge may be used. But remember that running propane while driving poses a safety risk.
Is there a driver available to take care of the RV driving?
No, we do not provide drivers along with the RV.
Can the RV be delivered to my house address?
Yes, the RV will be delivered to your address if you are a resident of Regina. Or else, it can be delivered to your campground or a predetermined location if the RV owner offers that service with their RV or Trailer rental.
How to rent an RV with RV Travel Central
1
Search available RVs
Use RV search to specify where, when, and how you want to travel. Looking for pet-friendly RVs? With delivery? You got it!
2
Explore the best RVs
Each RV listing provides you with pictures, prices, descriptions, available add-ons, reviews, and information about the owner.
3
Book your RV
Booking requests include your basic travel plans to help owners get to know you and make recommendations for your trip!
4
Hit the road!
On the first day of your trip, your host will walk you through their RV so that you're well prepared for your adventure!